Organising resources & activities
Commonly, people present information and resources in a range of file formats. On deciding on a document format, think about the purpose of the file and what the student is expected to do with it.
For example, PDF format for those documents that students do not need to edit (this format is better supported on mobile devices).
If you wish students to edit a document, then Word files are better. If you are providing PowerPoint presentations think about allowing students to see any notes you have made to support the presentation.
Whatever file format you use, ensure its name is logical and has description that
allows the student to make a judgement on what it is they are able to open.
Adding an extended explanation or subsection with a group of files? Use the label function to separate this out. Labels support clear module navigation.
Use logical item names that are understandable to students.
Add item descriptions to help students make best use of resources.
For long sections use labels or folders to clearly group common elements.
https://onlinevideo.napier.ac.uk/Play/7958
https://onlinevideo.napier.ac.uk/Play/7956
https://onlinevideo.napier.ac.uk/Play/7955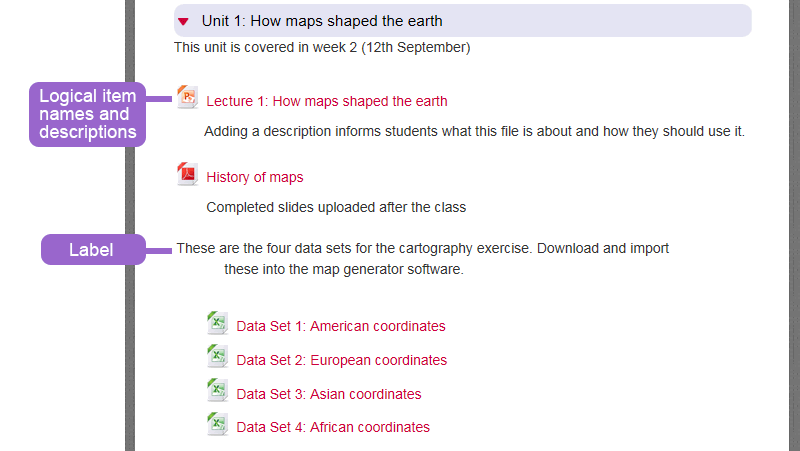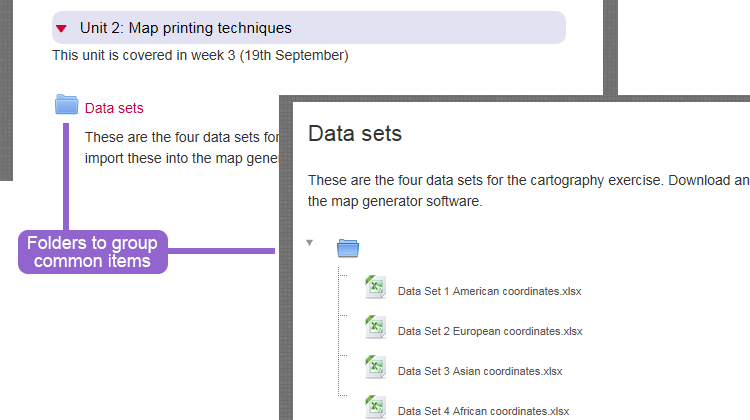 "I like how the modules all have subheadings with the relevent slides and further reading under, this makes it easier to find the information you are looking for."
"When there are lots of documents, powerpoints etc not under headings – like these things to be grouped together so you know what they are."