MEDIALecture is a desktop screen recorder that has replaced Camtasia Relay. MEDIALecture connects directly to the University online video server and is licensed by the same company (MEDIAL).
MEDIALlecture is most appropriate for screen recording at your own computer, whereas Panopto is recommended for recording classroom teaching activities.
The recorder has four options to choose from:
voice only
webcam and voice
screen and voice
screen, voice and webcam.
There are editing options that allow the recording to be trimmed or chopped, and titles and credits to be added before uploading. To get started view the recording with MEDIALecture quick guide.
Install MEDIALecture on your computer from AppsAnywhere and sign-in to the online video server to launch the recorder using the record button.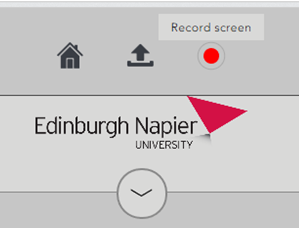 The recording is immediately send it to your personal category of the online video server without having to manually upload any video files.
Then move the video into a public or secure category, and further details are available in this guide to changing video categories. Alternatively use the Moodle plugin to restrict access to students in your Moodle module.