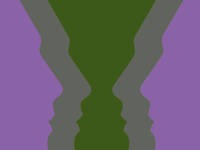 Communicating with students is what we all do every day. Achieving this effectively across large classes, not having to duplicate messages for absentees, avoiding conflicts with timetables, quickly and effectively can mean that you might want to use technologies to achieve this. Which tool you use really depends on what you intend to achieve. The university has a range of tools that facilitate communication with students.
Forums
Online forums are asynchronous tools which allow yourself and your students to create online discussions anytime anywhere. Their asynchronous nature encourages reflection before posting responses. Moodle provides different forum types for different purposes allowing you to communicate your message to the whole class at one time.
There are several forum types to choose from, such as a standard forum where anyone can start a new discussion at any time; a forum where each student can post exactly one discussion; or a question and answer forum where students must first post before being able to view other students' posts. A teacher can allow files to be attached to forum posts. Attached images are displayed in the forum post.
Participants can subscribe to a forum to receive notifications of new forum posts. A teacher can set the subscription mode to optional, forced or auto, or prevent subscription completely. If required, students can be blocked from posting more than a given number of posts in a given time period; this can prevent individuals from dominating discussions. See these staff guidelines to Moodle Forums and Emailing Students and these guidelines for students on managing emails received from Moodle.
Forum posts can be rated by teachers or students (peer evaluation). Ratings can be aggregated to form a final grade which is recorded in the gradebook.
Forums have many uses, such as
A social space for students to get to know each other
Course announcements (using a news forum with forced subscription)
Discussing course content or reading materials
Continuing online an issue raised previously in a face-to-face session
Teacher-only discussions (using a hidden forum)
A help centre where tutors and students can give advice
A one-on-one support area for private student-teacher communications (using a forum with separate groups and with one student per group)
For extension activities, for example 'brain teasers' for students to ponder and suggest solutions to
You can select a daily digest of either complete forum posts or with subjects only via your user menu.
Email messaging in Moodle
Moodle has its own internal messaging system which allows you to create an email to individual or whole class without leaving the Moodle environment. The email is sent to both the student Moodle account and to their university email account. Simply select the students from the Participants page and choose to send a message.
See these staff guidelines to Moodle Forums and Emailing Students and these guidelines for students on managing emails received from Moodle.
Chat

The chat activity module enables participants to have text-based, real-time synchronous discussions. The chat may be a one-time activity or it may be repeated at the same time each day or each week. Chat sessions are saved and can be made available for everyone to view or restricted to users with the capability to view chat session logs. Chats are especially useful when the group chatting is not able to meet face-to-face,
WebEx
WebEx is a real time collaborative web environment for meetings and teaching events.