Padlet is a collaborative tool which allows staff to create online boards for students (or anyone) to share information using digital post-it notes that contain text, images, links and other types of media.
Important security Issue
To disable remakes of your Padlets by Students who have been given accounts in our institutional Padlet, go to the modify cog in the right side of your Padlet, then scroll down and turn remakes off (or on) through the toggle button. This is a new feature and will prevent all non-admins the ability to remake your Padlet. At this time, you will have to do this with all the Padlets that you do not want remade. 
Students do not need a Padlet account to post to a Padlet, and the reason for creating accounts is usually to enable posts to be attributed. It is recommended that students are not given Padlet accounts and that they are instructed to manually enter their name to any posts.
If you have an existing ENU Padlet account and have forgotten the password, please go to: http://edinburghnapier.padlet.org/auth/forgot
Padlet privacy settings
There are four settings to choose from:
Private: Padlets are private by default so nobody can view and post content. To ensure the most secure Padlet then only invite specific people who have a University Padlet account.
Organisation wide: only use this when you want anyone in the University with a Padlet account to view your Padlet.
Secret: Anyone who has the Padlet URL can view and post content. Often the URL is provided to students in a Moodle module, but it can be shared by anyone who has the URL. 
Password protected: similar to secret but with added security. So anyone who has the link and the padlet password can view and post content, and a University Padlet account is not needed.
Password protected and Secret Padlet postings are anonymous. Private and Organisation wide padlet postings can be anonymous, or can have the posters name attributed as they will be logged in with their University Padlet account.
Padlets can be exported in PDF, Excel or image formats which is recommended when using padlet for assessment purposes and you need to keep a permanent record.
Padlet Styles
There are a wide range of Padlet board styles and formats to choose from so have a look through the Padlet Gallery for design ideas. Padlet is accessed through a web browser, a mobile app and can even be embedded within Moodle. The University has an institutional Padlet (https://edinburghnapier.padlet.org) which provides a choice of privacy settings which are described below. Staff need to have a Padlet account to get started so please contact the Learning Support Team if you wish to use Padlet with your students.
For creative ways to use Padlet for teachers and students then view this blog post by Lucie Renard, and view the Padlet Youtube channel for how-to videos.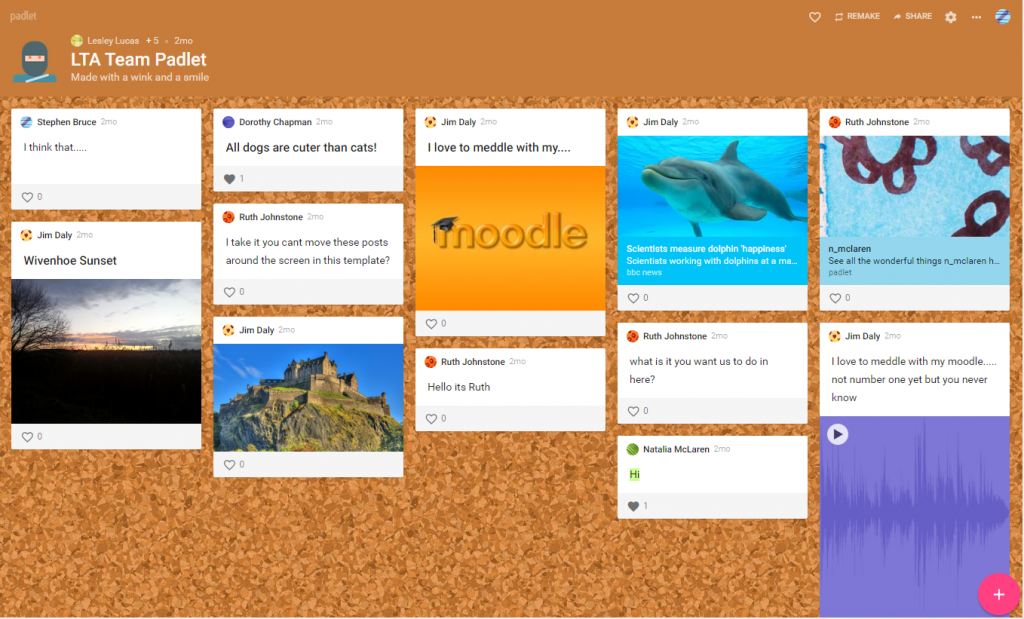 Padlet and Moodle
Padlets can be embedded within Moodle in two main ways.
If you are using a password protected or secret padlet so that postings are anonymous, then you can simply add the URL to your Moodle course. Alternatively you can embed the Padlet within a Page using the embed code. 
If you are using a private or an organisation wide Padlet and your students require their University Padlet account to post content, then you can add the Padlet to Moodle as an external tool. This means that students will not be prompted for their Padlet password.
Contact the Learning Support Team for any support with Padlet.