Mahara provides users with an ePortfolio platform combined with various sharing options.
An ePortfolio is a space where staff and students can record "evidence of learning" – such as essays, artwork or other such things they produce that can be stored digitally.
Structured approach to reflect upon personal development
Provides an online vehicle / tool for collation of student progress
Online space for students coursework, professional portfolio development
Provides alternative assessment format to standard essay or poster creation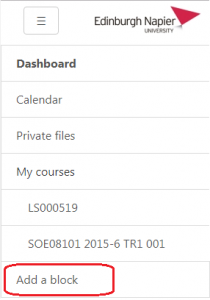 Providing your students access to Mahara is done by adding the My Portfolio block to your Moodle module using  'Add a Block'.
Staff and students can also add the block to their Moodle dashboard, and both routes take them to the same place for creating pages and collections.
Since Mahara does not have any grading facilities of it's own, a Moodle assignment can be created with the Mahara portfolio submission type. This will allow students to browse their Mahara pages for uploading to the assignment, which can then be assessed using the Moodle assignment grading and feedback tools.

For staff applying for HEA Fellowship via ENroute, Mahara will be required so you may want to add the My Portfolio block to your Course Overview page to make it quicker to access.
Access after graduation
Once students graduate they will no longer have access to their University Mahara ePortfolio however they can register for the open portfolios service and then import their Mahara contents for continued access.
To use the open portfolios service, students must register with a personal email account and agree to the rules of acceptable use. Students will receive an email receipt of their request, and after approval by Information Services they will be emailed instructions to complete the account creation process.
Students must import the content from their University Mahara ePortfolio before their University account expires, and this demonstration video (no sound) provides guidance on the export/import process.
Mobile browser access
When accessing Mahara from a mobile device the pages will be displayed in a mobile friendly theme: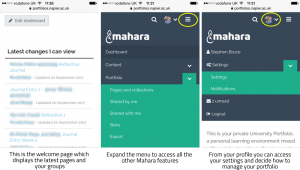 Contact your campus Learning Technology Advisor for further information on how to create groups and share templates.