As we welcome thousands of both new and familiar faces back to study at Edinburgh Napier for another year, here are some wise words from a few members of the Napier Knights American Football team who graduated in July this year. If you're still thinking about joining a sports society this semester, these players will convince you that the Napier Knights is more than just a sports team.
Name: Jamie Parker-Hoare
Position: Centre/Offensive Line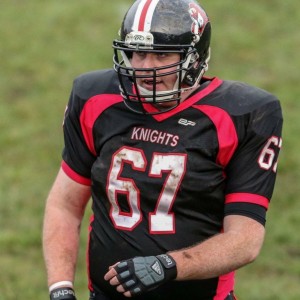 Course: Mechanical Engineering
Degree Classification: 2:2
How did your time playing for the Knights influence your time at university?:
By playing for the Knights, I have enjoyed some of the best times of my life and have met a great bunch of guys who will be friends and teammates for many years to come. Three years ago when I started the sport, I learnt a whole new sport which I have come to love and embrace, and have a passionate following for. For that, I have not only Pete Laird, but the entirety of the Knights coaching staff and players for teaching me and allowing me to take part in this fantastic sport. Winning Varsity the last two years have been among the highlights of my University time, along with actually completing my course and getting my degree classification!
Name: Igor Teter
Position: Defensive Back
Course: Mechanical Engineering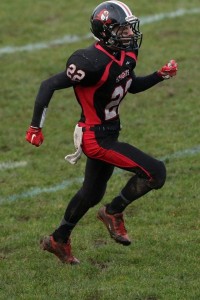 Degree Classification: 2:1
How did your time playing for the Knights influence your time at university?:
It has had a big impact on the social aspect of my time spent at university. I have met a lot of great people through the sport, as well as been presented with lot of opportunities. One of them was playing a game in front of a sizeable crowd at the Varsity game against Edinburgh University Predators. It's an unforgettable experience when two thousand people are watching, yet everything is silent but the breath of the man you are marking.
I have chosen to study abroad in America in my second year, and playing the sport had a big influence on making that decision. Playing football motivated me to improve my fitness, which is a vital aspect of playing on the field as much as it is great for confidence and self-esteem off the field. Team work is also the essential part of playing and winning the games in American football, and adaptation to working as a whole unit is a skill that will benefit for life.