Graphic Design graduate Sabina Friman has been afflicted with Alopecia Areata for the last 2 years. After receiving funding from the Student Grant Initiative, Sabina was able to share her experience of alopecia for her final year project which was featured as part of the Edinburgh Napier Degree Show. Since graduating over the summer and receiving the Honours Medal for her class, Sabina has gone on  to win a Gold Creative Conscience award in Film & Photography for the project which continues to raise awareness of the condition, de-stigmatize it and empower others.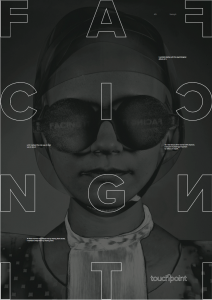 "Alopecia, especially for women, is a condition that isn't talked about – instead, it is covered up and hidden, as hair loss often is seen as shameful. That is why stigma against baldness remains, as there isn't enough awareness being raised of the condition. This is what makes the psychological effects of the disease very damaging. With my project I want to erase the stigma of bald women by raising awareness of alopecia through visually reimagining the condition. Not only has this helped me in going through the emotional stress caused by hair loss, but I hope it will help others suffering from the same condition.
Touchpoint, my alopecia story, is the result of a cross-­disciplinary creative process. By translating my own battle of alopecia into everyday 'armour', the journey is represented by five interactive wearable pieces, art directed into a poster series depicting the emotional transformation of concealing my hair loss, to revealing it. The wearables, using thermochromic ink that reacts when you touch it, and the impactful posters are supported by a short film where I share my story, and summarize the project.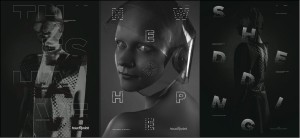 At times, working on a project so close to heart was difficult. The sensitive nature of the topic limited outward research. That's why using myself as a source, turning the research inward, seemed like the most effective thing to do. As other women had helped me by sharing their stories, I wanted to help them by sharing mine.
I was lucky to be able to collaborate with a screen printing expert in creating my interactive wearable pieces, with photographers (students) in creating the photos for my posters, and even a musician to create the soundtrack to my short film (all have been credited). This not only taught me many new things, but also the vital component of collaboration as an essential skill going into professional life.
The Mobility Grant helped me in realizing the most extensive project during my course – my final major project. With the grant, I was able to achieve my ambitions in regards to the project; the sophisticated level of innovation, collaboration and sheer scale and impact would not have been possible without it. Thus, the success I've been lucky to enjoy after the completion of the project owe a huge thank you to the Mobility Grant.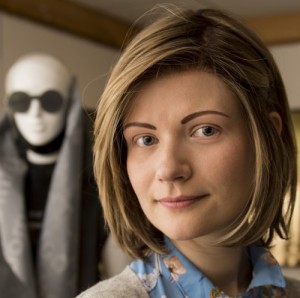 I couldn't be happier with the final outcome. Not only has this project help me overcome many fears regarding my condition, by going public with it, but the comments I've got from many different communities have really showed me what an impact my work has had. The feedback I have received has made it all even more worthwhile. From excellent academic results and an award, peer and professional feedback, interviews and published stories, to what matters the most; reactions within the Alopecia UK community itself, the project has in its public existence so far generated a wider positive impact I could have ever imagined – and I hope it will continue to do so."
You can watch Sabina's video below: