As we welcome thousands of both new and familiar faces back to study at Edinburgh Napier for another year, here are some wise words from a few members of the Napier Knights American Football team who graduated in July this year. If you're still thinking about joining a sports society this semester, these players will convince you that the Napier Knights is more than just a sports team.
Name: Jamie Parker-Hoare
Position: Centre/Offensive Line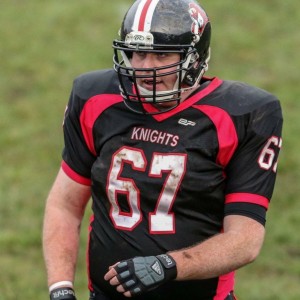 Course: Mechanical Engineering
Degree Classification: 2:2
How did your time playing for the Knights influence your time at university?:
By playing for the Knights, I have enjoyed some of the best times of my life and have met a great bunch of guys who will be friends and teammates for many years to come. Three years ago when I started the sport, I learnt a whole new sport which I have come to love and embrace, and have a passionate following for. For that, I have not only Pete Laird, but the entirety of the Knights coaching staff and players for teaching me and allowing me to take part in this fantastic sport. Winning Varsity the last two years have been among the highlights of my University time, along with actually completing my course and getting my degree classification!
Name: Igor Teter
Position: Defensive Back
Course: Mechanical Engineering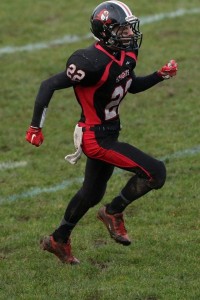 Degree Classification: 2:1
How did your time playing for the Knights influence your time at university?:
It has had a big impact on the social aspect of my time spent at university. I have met a lot of great people through the sport, as well as been presented with lot of opportunities. One of them was playing a game in front of a sizeable crowd at the Varsity game against Edinburgh University Predators. It's an unforgettable experience when two thousand people are watching, yet everything is silent but the breath of the man you are marking.
I have chosen to study abroad in America in my second year, and playing the sport had a big influence on making that decision. Playing football motivated me to improve my fitness, which is a vital aspect of playing on the field as much as it is great for confidence and self-esteem off the field. Team work is also the essential part of playing and winning the games in American football, and adaptation to working as a whole unit is a skill that will benefit for life.
Name: Adam Foxall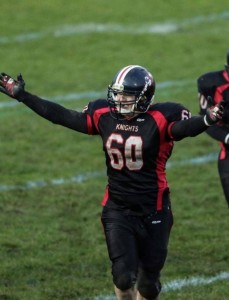 Position: Left Tackle on the Offensive Line
Course: BA (honours) Accounting
Degree Classification: 2:1
How did your time playing for the Knights influence your time at university: 
It was the best thing I did while studying at university. I was persuaded to try out the sport by coach Maciver at the freshers fair and 4 years later was really glad I did. I met lots of really good friends and enjoyed playing a lot. Seeing the team develop and grow over my time was something to be proud of. Winning the last two Varsity games in front of so many friends and family was an incredible experience. The hard work and commitment of my teammates was really inspiring me to strive to be better. I would like to thank all the coaches, players and ex-players who i met along the way for so many memories. I now use my Knights football skills as the left tackle on the offensive line for the premier division East Kilbride Pirates.
Name: Robbie Campbell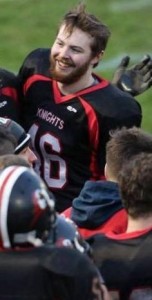 Position: Tight End
Course: BA TV
Degree Classification: 2:1
How did your time playing for the Knights influence your time at university?:
It helped me socially and professionally and most of all personally. Knights embrace family. It helped me mature into the person I am and the dad I am about to become. 
Knights have offered plenty of highlights and hardly a low to mention. I couldn't recommend football as sport enough and team as a whole. If I could do it again I'd do it in a heartbeat. 
Name: David Wright (Twin)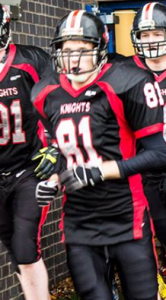 Position: Wide Receiver
Course: BEng Computer systems and networks
Degree Classification: 2:1
How did your time playing for the Knights influence your time at university?:
My four years as part of the Napier Knights has given me the opportunity to meet others who enjoy and have a passion for the sport whether one term exchange students or long term team mates. 
Four years ago when I started I had no clue how to play the sport or what my time at university was going to be like; the knights were a welcoming presence. I am not particular strong or fast but there really is a position or role for anybody. Here the Knights played a key role with the meeting of new friends and the drive to perform better each week and get my assignments done before training.
Being involved in a university sports team that had a drive to progress in the league and improve as a team even when it would have been easier to accept defeat, has been of enormous benefit to me. Since I joined we have gone from a winless season to an undefeated season in my final year. This attitude to succeed undoubtedly did get carried forward into every aspect of university. The coaches and team mates were there to support off the field with university issues as well as on the field.
Name: Rhuary Horsburgh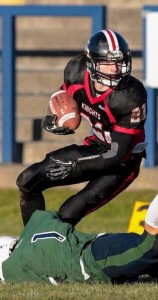 Position: Safety (Captain)
Course: Product Design and Engineering
Degree Classification: BSc (Hons) 2:1 Upper Class
How did your time playing for the Knights influence your time at university:
Apart from my studying, American Football took up a large part of my leisure time, whether it was training or games, the video sessions, or gym sessions with guys from the team, or the teams social life and nights out, meeting up and the events we held each September. 
I looked forward to returning to the team, probably more than returning to university itself. Joining the team helped me become friends with loads of guys from other courses who I would never have had the pleasure of meeting as I would constantly see the same faces in the majority of my classes. Being part of the team each year, as friends I had made graduated, I made new friends as new players arrived each September. 
To sum up my time at Edinburgh Napier University would have been a lot less fun and less good memories of my time as a student had I not joined the team as being part of the Knights was like a home away from home.
To find out more about the Napier Knights, please visit their website here.