With his own successful business,  Josh Quigley seemed well on his way to becoming an entrepreneurial success. Unbeknown to everyone though, Josh was struggling with his mental health. Read more his battle with depression and his journey as the Tartan Explorer.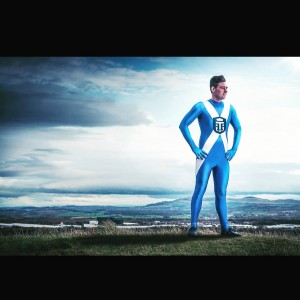 In 2010, Josh Quigley started at Edinburgh Napier University as a Business student, with dreams of becoming an entrepreneurial success. 6 years later, his dream has come true. However, Josh's journey to success has been far from easy behind the scenes.
Josh left university after his first year to work full-time and gain some experience before continuing his studies in business at Stevenson College. This led Josh back to Edinburgh Napier in 2013 when he joined as a bright and confident, 3rd year Marketing & Management student.
Josh has always had an entrepreneurial spark from a young age, he was fascinated with how businesses worked. This passion inspired him to set up his own incredibly successful digital marketing business during his 3rd year, Sharkdog, which won Josh the 'Young Entrepreneur of the Year 2015" at the Forth Valley Chamber of Commerce Awards. However, the success of the business combined with everyday stresses of life began to take their toll on Josh's mental health. Feelings of loneliness, and isolation became overwhelming and Josh lost his sense of who he was. The enthusiastic, intelligent young man who once had a true lust for life, could only see one way out.
 On 26th May 2015, Josh decided to end his life.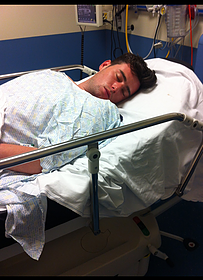 "All I wanted was to be happy, to enjoy life. But I couldn't. I couldn't imagine ever feeling happy again. I felt like I was trapped in a corner and I only had one option. I wanted it all to end. I wanted it to be over. I wanted to be dead."
At 80 mph, Josh intentionally crashed his car into a concrete barrier at the westbound junction of the M8 near Livingston. Miraculously however, he walked away from the crash with no physical injuries.
Josh decided to seize this opportunity to inspire others suffering from depression and raise awareness of mental health problems by sharing his story. Hence, the Tartan Explorer was born.
A Global Adventure
On 26th March, Josh will cycle across Scotland, volunteering and working with various mental health charities, speaking with mental health professionals to find out what is being done to help people struggling with their mental health and what could be improved. He'll also be speaking at ceilidhs, art galleries and events focused towards mental health, sharing his experience and speaking about how he still struggles to maintain a positive outlook on life.
To mark the one year anniversary of his suicide attempt, Josh will be leaving Edinburgh on a global challenge to raise awareness of mental health on 26th May 2016. The fitness fanatic will cycle to over 80 countries, spread over 6 continents in his famous Scottish morph suit.
"I want the world to see all of the positive things I'm doing in each country. I want to use the global audience I build to promote positive messages to the world and use my reach to empower people and show that you can achieve anything you want in this world."
Josh has set himself 5 key challenges to complete for each country that he visits: A.W.A.R.E. challenges.
A. ccept or undertake an adrenaline based activity or extreme sport
W. ork or volunteer in a mental health charity or association
A. ppear on TV or radio speaking about my challenge and adventure
R. eveal his story on a stage at a mental health conference, event or seminar
E. xercise or perform a physical challenge at each country's most iconic landmark or destination in the morph suit
The main goal for Josh as he visits each country is to encourage people to get talking about mental health by sharing his survival story. He'll also be speaking with charities, specialists and mental health professionals to understand what they're doing right. Josh estimates that this international journey will take between 2- 4 years to complete.
"We've all been affected by suicide or know someone who has. Two people in Scotland die every day because of suicide. It's time for us to come together as a country and try and change that…"
Find out more about Josh and his mission as The Tartan Explorer via his website. You can also get the latest update on Josh via Facebook and Twitter! #MentalHealthMatters