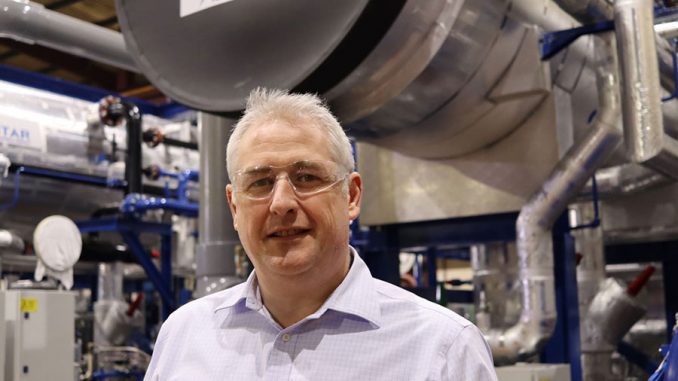 Star Refrigeration's Group Sustainable Development Director, Dave Pearson, has accepted a visiting professorship at Edinburgh Napier University's School of Computing, Engineering and The Built Environment commencing with immediate effect.  This is part of a scheme designed to advance student understanding of the potential applications of renewable heat using heat pumps. His three-year Visiting Professorship at SCEBE is funded by The Royal Academy of Engineering visiting professor programme. The programme is designed to draw on the experience of Visiting Professors with relevant industry backgrounds, to strengthen external sector partnerships, support sustainability efforts and enhance the employability and skills of UK engineering degree students.
Dr Zuansi Cai, an environmental modeller and associate professor at Edinburgh Napier University, is responsible for organising and championing the initiative after securing funding from The Royal Academy of Engineering's Industrial Fellowship scheme for 2021/2022.
Dave is a Mechanical Engineer with over 20 years of experience of life inside the UK's largest industrial cooling contractor. With a Masters in Business Administration focused on Innovation the next step wasn't surprising with a diversification strategy that took him and the business to delivering the world's largest high temperature ammonia heat pump district heating solution in 2010 then more recently the UK's largest high temperature river sourced heat pump solution in Clydebank.  Engagements have included:
Chair of the Centre for Engineering Education and Development-Scotland (CEED) (business to academia knowledge sharing platform)
Former Chair of the Renewable Heating and Cooling Platform (Horizon2020)
Former Scottish Renewables Board Member
Founding member of the Industrial & Commercial Heat Pump group at the European Heat Pump Association
Panel member of various industry working groups including the Association of Decentralised Energy
Appointment to the Scottish Energy Advisory Board
Dave Pearson's primary mission at SCEBE will be to equip our students to harness the power of renewable technology to deliver low-carbon, affordable heat to industry and entire communities and help meet the government's decarbonisation goals.
See article here.