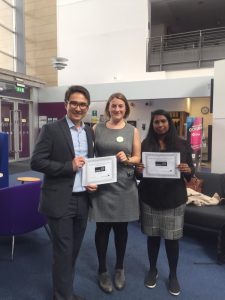 Congratulations to Anitha Karthik, Ruth Saint and Niaz Gharavi, winners at Edinburgh Napier University's annual research conference, held on Tuesday June 18th.
Anitha received both the judges' and the audience vote for her presentation:
"People worry about wind and are hit by surge water"
"Storm surges are complex seaborne hazards originating predominantly from key weather events such as tropical cyclones. Yet not all hurricanes result in bringing a storm surge to a coast. This increases the 'level of uncertainty' and the need to study more about Storm surges. With the prevailing modern technologies and prediction systems even today more than 1000s are being killed in a single tropical cyclone event. Both coastal communities and infrastructure are exposed to the storm surge hazard. A wide range of literature is available yet only a little work has been done towards adaptation and mitigation. Disaster Adaptation to Mitigate Storm Surge (DAMSS) framework is designed to highlight the gaps within existing approach to reshape a resilient future."
The research team is led by Prof Sean Smith and Naren Gupta focussing on storm surge resilience as part of sustainable development.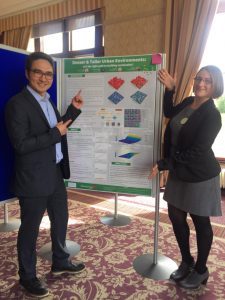 Niaz and Ruth won the best poster award for:
"Denser and taller urban environments: is it the right path to building sustainably?"
Their research, led by Dr Francesco Pomponi and Dr Bernardino D'Amico, focuses on the impact of a growing population and increasing urbanisation on the built environment and the belief that building taller and denser is the solution. The aim of the project is to determine whether, with this greater strain on the world's resources and an ever increasing energy demand, there is merit in saying a denser and taller urban environment is the most sustainable future, in terms of whole life carbon.