Conscientious brands: Do the right thing and be profitable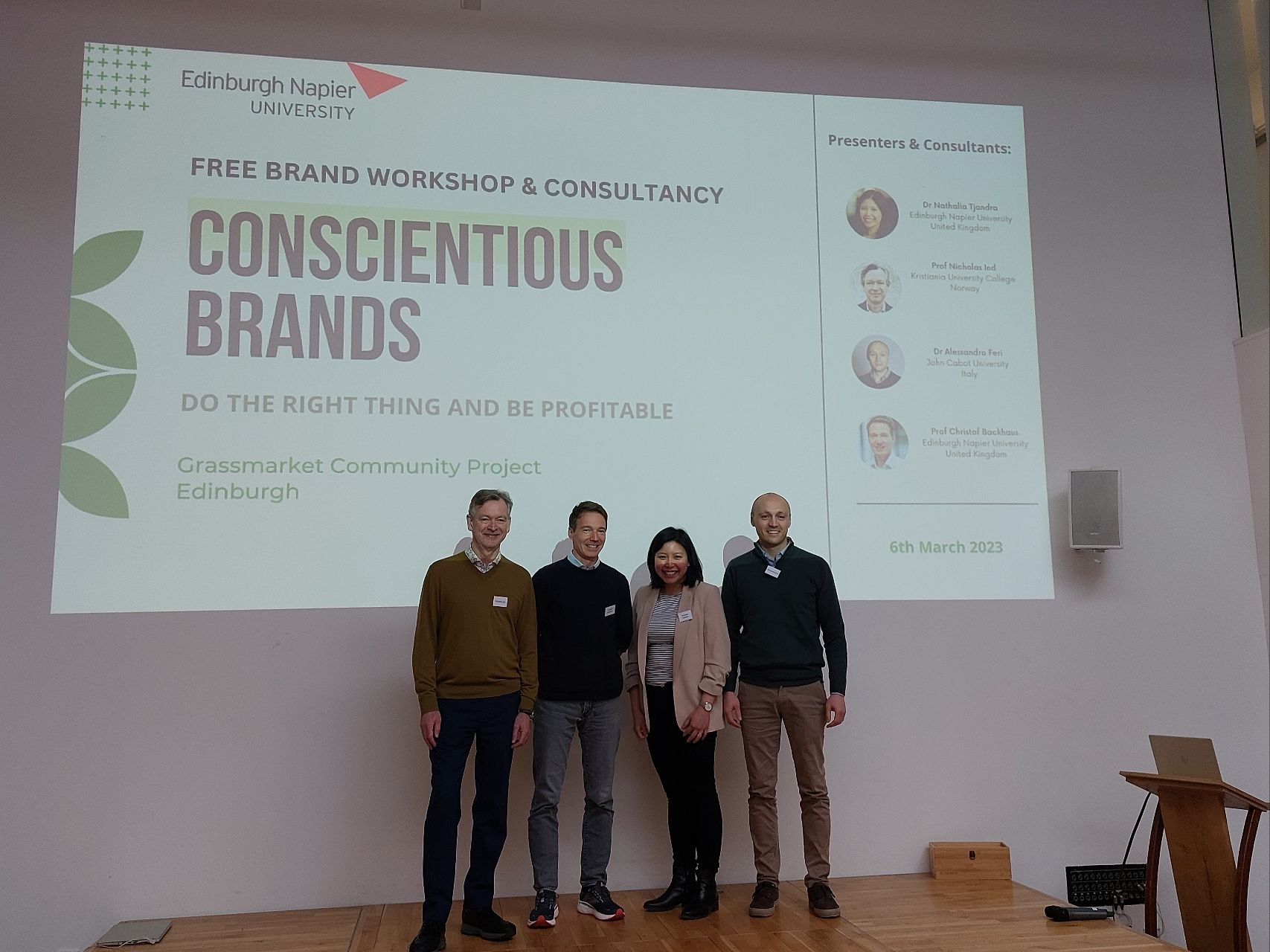 On 6th March 2023 a team of branding researchers, Dr Nathalia Tjandra and Professor Christof Backhaus (Edinburgh Napier University), Professor Nicholas Ind (Kristiania University College Norway) and Dr Alessandro Feri (John Cabot University Italy) delivered a free workshop and branding consultancy "Conscientious Brands: Do the Right Thing and Be Profitable" at the Grassmarket Community Project Edinburgh. The interactive workshop introduced the concept of conscientious brands and how it can be beneficial and profitable for businesses.
The event, attended by businesses, branding practitioners, academics, and students, discussed the dilemmas, challenges, and opportunities for businesses in acting conscientiously. During the workshop, we explored various ways of developing a profitable and successful brand while doing the right thing. At the end of the workshop, a few businesses took the opportunity to have a one-to-one free branding consultancy with the speakers.
Conscientious brands have a clear transformative purpose and a sense of responsibility towards people and the planet (Horlings & Ind, 2016; Iglesias & Ind, 2016, 2020). They are built upon their willingness to think issues through critically from the perspective of all stakeholders and to work together to deliver transformative change. In recent years there are increasing stakeholder expectations as to the probity of organisations and their brands. There is a belief amongst brand stakeholders that brands can be a force of good by improving wealth and well-being and addressing existing challenges which affect society. Furthermore, brands are expected to take stances on critical issues and integrate them into the core of their decision-making process.
The early findings of the qualitative study conducted by the research team together with researchers in ESADE Business School Spain; RheinMain University of Applied Sciences Germany and Technische Universität Braunschweig involving 17 global brand managers, 35 marketing agencies and 525 UK consumers identify several attributes that characterise conscientious brands. Such brands are driven by organisational beliefs, have a transformative purpose, are committed to sustainability, balance stakeholders' needs and act with integrity.
Based on these attributes, we outlined seven steps to becoming a conscientious brand:
Clearly define internally driven conscientious principles.
Delineate a transformative purpose.
Embed sustainability into the strategy.
Promote an internal culture of accountability and responsibility.
Act with integrity and balance stakeholders' needs.
Measure, report and communicate actions.
Improve by focusing on measures and innovation.
The participants were presented with real case studies on the dilemmas faced by brands when making conscientious choices. Working in groups, they discussed the pros and cons of undertaking various decisions. In the discussion, they presented the recommended decision and its rationale. The discussion summarised that whilst being a conscientious brand has its challenges, the benefits are greater for brands in the long-term. These include:
Increased reputation and brand image.
Enhanced customer relationships and loyalty.
Improved attraction and retention of motivated personnel.
Superior business performance.
Positive social and environmental impact.
Making a real difference in the world.