Making your mark- An interview with star student Amy Howlett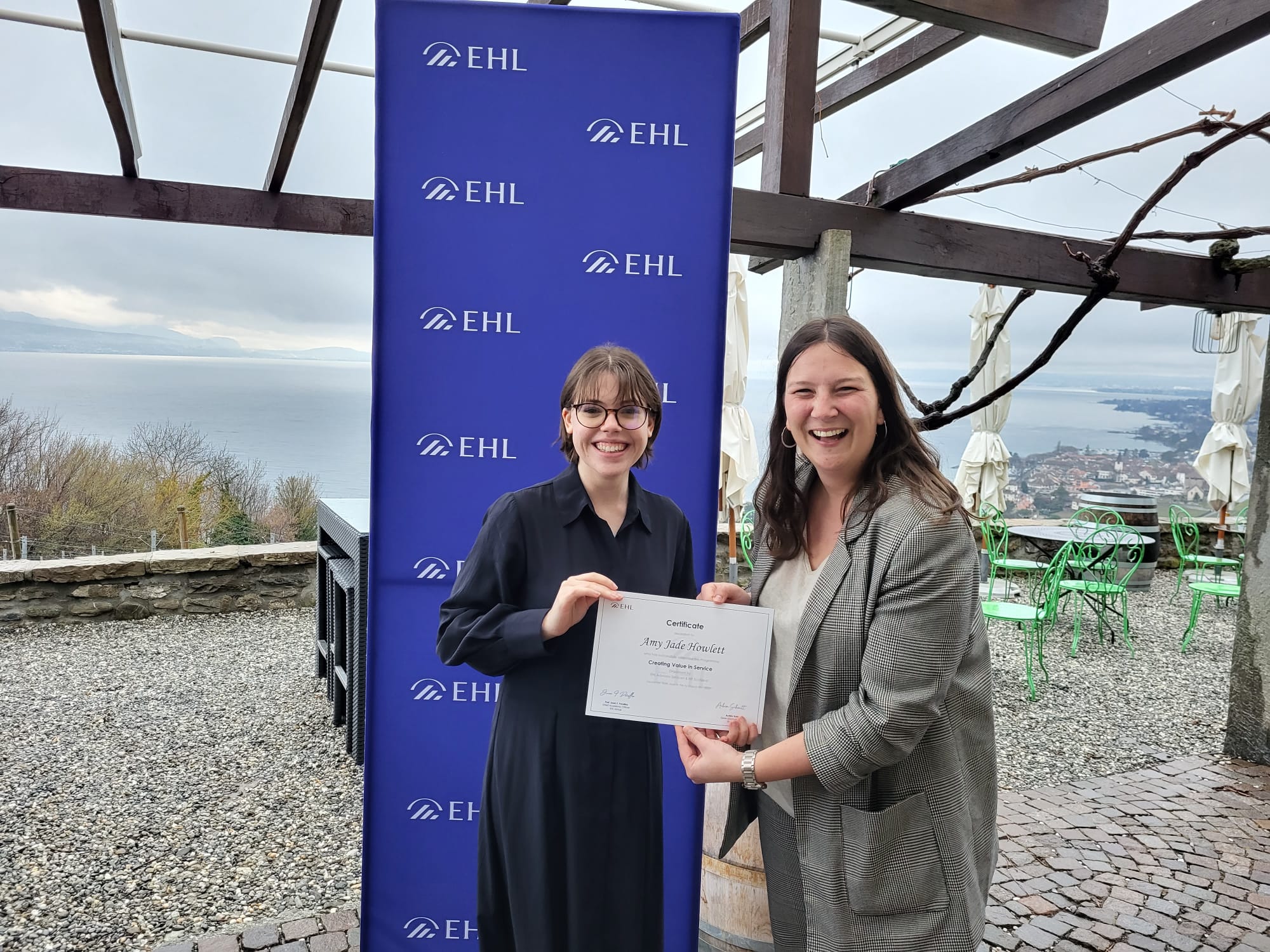 We recently caught up with star student and ScotHot scholarship winner Amy Howlett. Amy is a third year International Hospitality and Management student who recently travelled to Switzerland as part of an opportunity provided by HIT, a Scottish charity run by hospitality industry leaders.
They aim to encourage those who work in and study hospitality to expand their skills and horizons through providing various opportunities that are funded by donations and attendance at their events.
We spoke to Amy to find out more about her experience and the importance of making your mark in first year!
What made you want to get involved in the opportunity with HIT Scotland?
Firstly, I would like to preface this with a thank you to my programme leader, Gavin Urie, and module leader, Lynn Waterston, as without them and their acknowledgement of my achievements, I would never have been offered this opportunity.
I was offered the opportunity to attend one of the experiences provided by HIT in recognition of my achievements and performance in my first year. I think I kind of blacked out at this point because I can't remember whether I called family or bothered my flatmate first, but I wanted to tell everyone about it! I thought that if I told as many people as possible, the offer wouldn't disappear!
How did the opportunity come about to go over to Switzerland after applying?
After accepting I was put in contact with Alyson, the organiser of the experience. It was like going on holiday but not planning any of the details, so everything was a surprise.
I should mention the trip coincided with my 21st birthday! Essentially, I agreed to celebrate my birthday with a group of strangers (highly recommend by the way). We all met at the airport for the first time, and it didn't take long for us all to feel like friends. Arriving at EHL Hospitality Business School, Switzerland was insane! The school is so beautiful and modern, with all the students dressed up in suits and ties. It was quite a different experience to your average day at uni.
What where some memorable moments that stood out for you?
I learned so much while I was there. Most of the day was taken up with learning and workshops, but that doesn't mean that there weren't other incredible experiences to look forward to. I don't think I've ever eaten so well in my life! There were tours of a vineyard, 5-star hotels, exploring Lausanne, trying wines, eating fondue, partying until 12am… truly unforgettable. It's hard to choose one part that stood out the most! Although, I did cry in a suite that cost 10,000 Swiss Francs per night (about £9000). I will be forever grateful for the opportunity and cherish the friendships and memories I made there. It truly felt like a fairy-tale.
If you had to sum up the week in three words, what would they be?
Summarised into three words? 'Magical, unforgettable experience', but that doesn't do it justice!
Would you say Napier provides opportunities for students to gain experience and develop their skills that goes beyond the classroom?
I would tell other students that there will be a lot of times when people tell you that you're caring too much about your first year and that it doesn't count. It may not count towards your final grade, but it certainly still counts!
Napier is amazing at recognising the hard work that their students put in. You will be rewarded in ways you couldn't ever have imagined. Aim for your best, contribute in classes, and produce work that makes you proud.
You never know when an opportunity might come your way.
Interested in studying a degree in Tourism Hospitality and Events Management? Find out more here.
To learn more about the work HIT are involved in, visit the website here.