Edinburgh Napier celebrates success at the Scottish Events Awards 2023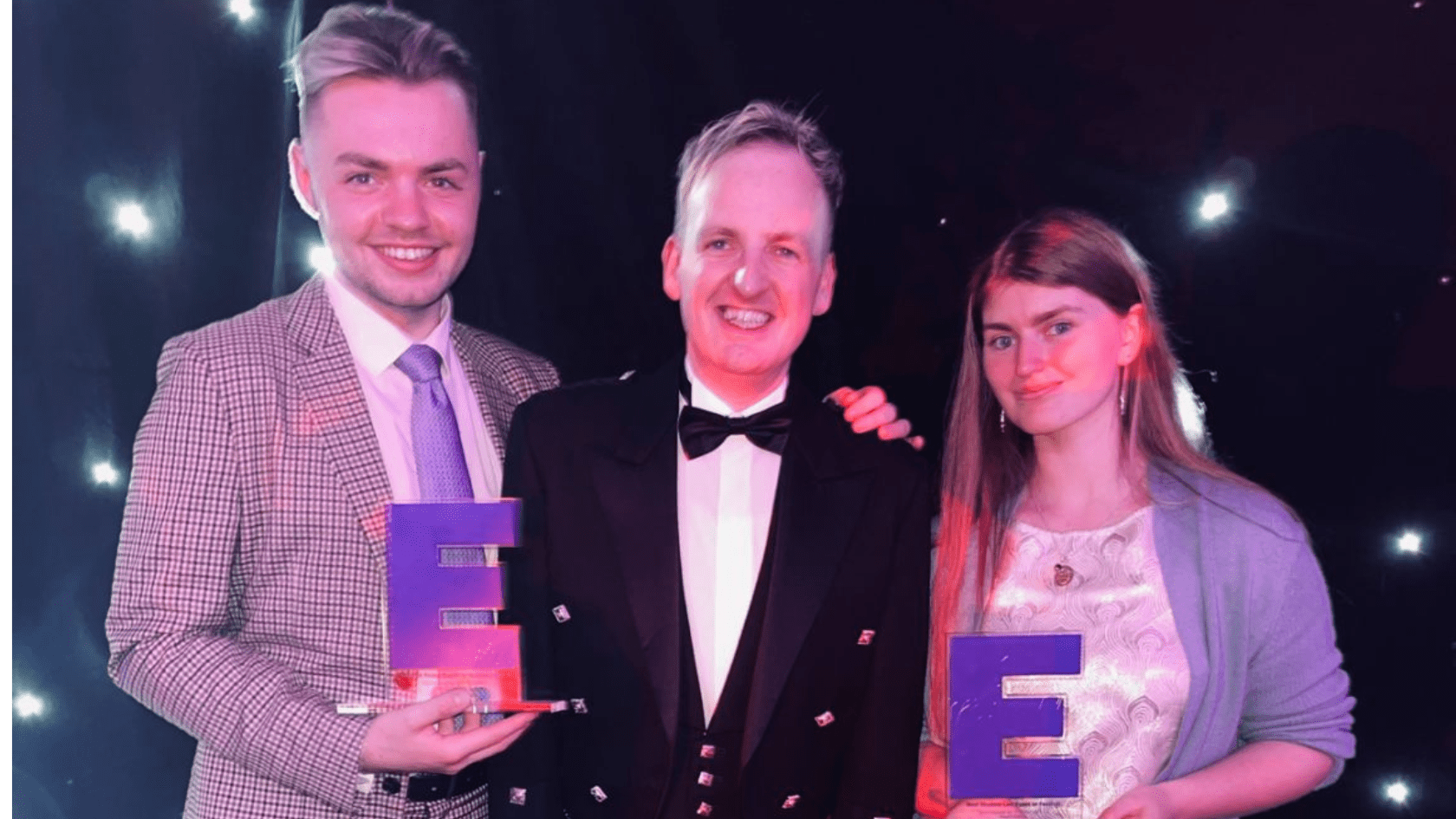 Edinburgh Napier celebrated success at the recent Scottish Events Awards, winning two awards! Undergraduate students Gabriele Lopataite, Iona Watt, Imogen Wilkinson & Iolanda Ghironi received the award for 'Best Student-Led Event'… and MSc International Festival & Event Management graduate Paul Cockburn won the 'Rising Star Award'!
The group who won the Best Student-Led Event – taught by Doctor Gary Kerr and Professor Ivana Rihova – chose the idea of a sustainability fashion show, with funds raised going to charity World of Bravery.
We've asked the group about their event Eco-Tag, and how this project is a reminder that you can achieve whatever you believe in. It's all about mindset!
Firstly, what is Eco-Tag and how did that come about?
The concept came about when we were required to plan and organize an event as part of our compulsory event management module at Edinburgh Napier University. In latest years sustainability has become essential in the festival and event world, thus, we thought of a fashion show that would showcase some of Edinburgh's eco-friendly or reusable fashion options.
Our goal was to create a unique event that could exhibit Scottish brands made by women in the industry to target primarily young females.
What made you get involved in the E-awards and how did you get nominated?
Our professors at Edinburgh Napier University played a very important role into our involvement in the E-Awards. They supported us and believed in us more than we did ourselves. It felt like we were on top of the world by being selected as the best event in the year, and being put forward by our tutors was very much appreciated by the whole team.
What was it like to attend the awards ceremony and can you speak a bit more about your experience?
The ceremony was an exciting experience. Firstly, it gave an interesting outlook on how it feels to be part of this industry and its perks. Secondly, it was amazing to meet many interesting people, with different backgrounds. This opportunity will encourage us to push ourselves even harder and to become even more ambitious when organizing our next event.
What has winning made you realise regarding your potential and what's next for EcoTag?
Winning the E-Award shows how much potential we have as students; and shows that the hard work we put into this event does pay off. Although it is fair to say that during the planning process we did feel overwhelmed by the workload and stress. Nevertheless, in the end it was even more rewarding because we did not let those feelings stop us! We worked as a team and managed to achieve our initial objectives that we had set at the beginning.
Any advice for inspiring students when it comes to getting involved in external projects?
External projects are amazing at helping you gain experience working in a particular sector. These projects help you meet people in the industry, as well as see other examples of events that is happening within it. It was a great experience to be fully submerged in what life after our studies could be like, and to learn first-hand the challenges and ultimately benefits of organizing events.
Professor Gary Kerr further commented, "I am absolutely delighted to see Edinburgh Napier receiving not one but two awards at the Scottish Events Awards. It's important to support and believe in student capabilities and talent, and by winning these awards it showcases the talent that we have at Napier. I am extremely proud of our International Festival and Events management students."