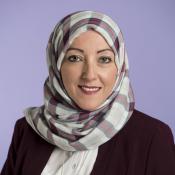 We are delighted to announce the Dr Suha Jaradat has achieved the Fellow class of the Chartered Institute of Architectural Technologists membership (FCIAT) which is based on demonstrating significant contribution to and excellence in Architectural Technology. The designation, FCIAT, sits alongside the protected descriptor 'Chartered Architectural Technologist'.
Dr Jaradat has also achieved a Chartered Fellow membership of the Chartered Association of Building Engineers (C. Build E FCABE). Fellow Chartered Building Engineer is the highest level of CABE membership and reflects the knowledge, expertise and experience of the industry's most experienced professionals and a commitment to furthering the profession of building engineering.
Edinburgh Napier University's MSc Architectural Technology & Building Performance programme has been accredited by the Chartered Association of Building Engineers (CABE).
Suha is guest editing a Special Issue of Applied Sciences journal on 'Building Information Modelling (BIM) Implementation in the Construction Industry', with Paul Coates and Adonis Haidar.  Applied Sciences is open access with Impact Factor of 2.474, and all articles are free to read worldwide.  The Special Issue offers an opportunity to re-evaluate the theoretical basis underpinning BIM and also to consider BIM's role in a digitally emerging world.  Please check the website of our Special Issue for more information.