Norco factory team mechanic, Lewis Kirkwood, thinks mountain biking could be giving us bad vibrations: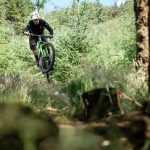 A recent study from Edinburgh Napier University suggests that mountain bikers are experiencing vibration exposure that could be hazardous. The study was carried out by Norco Factory Team mechanic, Lewis Kirkwood, as part of his Ph.D.  He fitted accelerometers to the bars of two top-ten riders' bikes at a round of the Scottish Enduro Series and the British Championships. These are tracks that have hosted EWS rounds in the past and represent a typical, elite-level enduro race.  The research was undertaken in collaboration with Dr. Mark Taylor of the Civil & Transportation Engineering Department.
To find out more, the article, published in the Journal of Science and Cycling, can be accessed here.