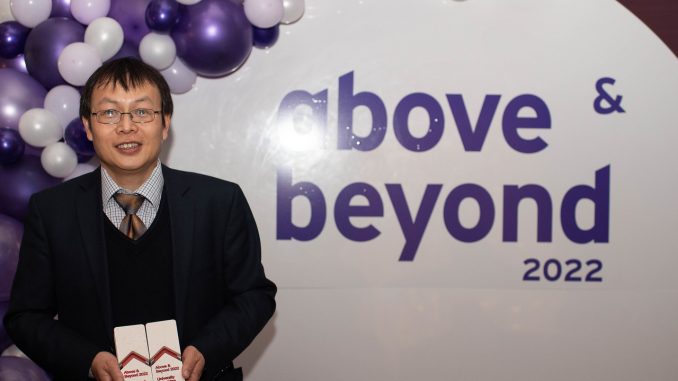 On Thursday 5th May, colleagues joined the Above and Beyond hybrid award ceremony to see ten awards presented to those who made an outstanding contribution throughout the last year and celebrate colleagues who have given 25- and 40-years' service.
Congratulations to Johnson Zhang who received two Above & Beyond awards (University Enterprise and Research & Innovation).
Congratulations to John McDougall, who received a recognition award for 25 years of service at the university!
Congratulations also to Bernardino D'Amico who was a finalist for the Research & Innovation award.
University Enterprise Award: Johnson Zhang
Professor Zhang has demonstrated his persistent and consistent effort in driving the entrepreneurship agenda forward.
He has become a role model for other academics to follow. He is relentless in devising solutions, aligning with business partners, and establishing new collaborations both within and beyond ENU. His entrepreneurship achievements are demonstrated in the following areas:
Increasing ENU's reputation and showcasing our ambition at COP26 with social, environmental, and economic impact. The prototype of his new product (prestressed bamboo-timber composite structural material) offers the potential for radical change in the UK and globally.
His adaptable approach has successfully identified and exploited opportunities from the British Council, Asian investment, and opportunities in both the Asian and European marketplaces.
His patented product is bringing international attention to ENU and more income from commercialisation will come.
Research & Innovation Award: Johnson Zhang
Johnson Zhang led his team in the innovative and impactful Bamboo-Timber Grid-shell structure research. The research group teamed up with the International Bamboo and Rattan Organisation (INBAR) to showcase the grid-shell structure at COP26 to promote sustainable construction. This is pioneering research that has a far-reaching impact, which supports the UK Government's net-zero ambition and has the potential to catch the imagination of the public.
This research could have significant positive impact on the external environment as it promotes sustainable construction materials in modern buildings and supports the UK Government's net-zero ambition. Leading research in this area will not only safeguard the jobs in the forest and construction industry but also provide high added value to the Scottish timbers and creating a sustainable built environment. It also underpins the sustainable Covid recovery.
The event programme can be accessed here.