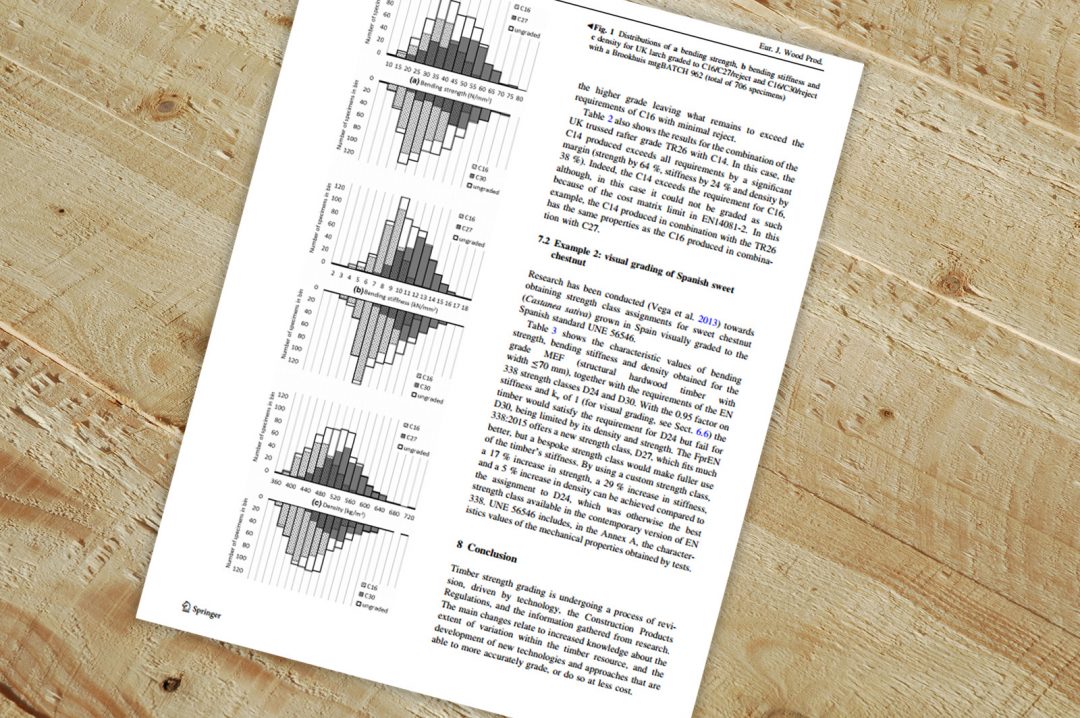 The paper "Strength grading of sawn timber in Europe: an explanation for engineers and researchers" by Dan Ridley-Ellis, Peter Stapel and Vanesa Baño is now published (online first) in the European Journal of Wood and Wood Products (Holz als Roh- und Werkstoff).
Abstract:

This paper is a concise explanation of the normative background to strength grading in Europe, addressing important aspects that are commonly misunderstood by structural engineers and timber researchers. It also highlights changes that are being made to the standards to: incorporate requirements of the construction products regulations; add improvements to the system to accommodate the latest knowledge and technology; and widen the application of the standards. Where designs need to be optimised, there is an opportunity to use the system more intelligently, in combination with the latest technology, to better fit design values to the true properties of the timber resource. This can bring a design enhancement equivalent to effort improving other aspects of the structure, such as connectors and reinforcement. Parallel to this, researchers working on other aspects of structural improvement need to understand what grades really mean in respect of the properties of the timber, in order to correctly analyse the results of testing. It is also useful to know how techniques used in grading can assist with material properties characterisation for research. The amount of destructive testing involved in establishing machine grading settings and visual grading assignments presents a barrier to greater use of local timber, and diversification of commercial species, so it is important that any researcher assessing the properties of such species should consider, from the outset, doing the research in a way that can contribute to a grading dataset at a later date. This paper provides an overview of what is required for this.
As well as explaining the principles of strength grading, recent changes in the standards, the meaning of "representative sampling", and the process by which machine grading settings, and visual grading assignments are approved – The paper explains a number of commonly held misconceptions.  It explains that:
That the EN338 strength classes are not the only strength classes (and that they are not as different from each other as people tend to think)
That the strength class does not indicate what the properties of a particular piece of timber are – and that knowledge of the grade of a piece of timber per se is therefore not especially useful for research testing work
That it is only possible to grade using a particular grade combination of, typically, one, two or three strength classes
That grading machines do not operate by proof testing the timber
That you cannot visually grade timber rejected by a machine, except under special circumstances
That there is no direct correspondence between dry-graded timber and EN 1995 service classes. The term dry-graded relates specifically to the check for fissures and distortion having been carried out at a moisture content of 20 % or less.
That the strength classes, defined by EN 338, are not fixed forever; their properties can change when standards are revised (for more info see our blog post)
The paper includes an example of grading data from our recent work on UK larch.
The authors are grateful to COST Action FP1004 ''Enhance mechanical properties of timber, engineered wood products and timber structures'' for enabling this collaboration.
The DOI  is 10.1007/s00107-016-1034-1, and it is available at link.springer.com
Edit 24 April 2016: The print version of the paper is now published: European Journal of Wood and Wood Products, 74(3), 291-306