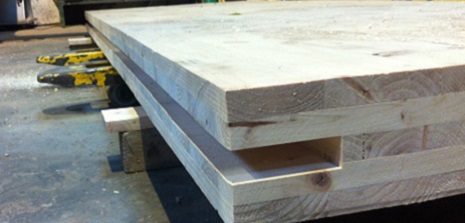 The InFutUReWood project website is http://infuturewood.info/
Innovative Design For the Future – Use and Reuse of Wood (Building) Components "InFutUReWood" is a new project funded under the ERA-NET Cofund ForestValue (see below for more funder details). It will run for three years.
The timber construction sector is growing and innovative, with new methods of building and new engineered wood products, composites and treatments. This project looks one step into the future to ask: "How should we build today to be able to circulate tomorrow?"
Moreover, the project aims to answer the questions "How easy is it to reuse the wood from current buildings especially as a structural material?" and "How can the past experience help the future?", identify the key problem areas, and propose technical and methodological solutions to address them. This knowledge will be transferred to industry to avoid inadvertent and unnecessary problems for future generations.
The objectives of the project are:
To develop a method for ensuring future possibility of circulation of timber products with true consideration of whole life-cycle, and practical industry issues at design, construction and deconstruction phases.
To plan primary design to facilitate deconstruction rather than demolition, and to pay attention to the use of chemical treatments, adhesives and other synthetic materials – including to decide whether their use technically is necessary and avoid over-specification.
To optimize the primary design to enhance resource efficiency as well as reduce environmental impacts along the life cycle (build and deconstruction).
To allow grading for quality of recovered wood, and similarly variable new wood from more diverse sources, in a way that is compatible and equivalent to grading of new timber from the main commercial species (including the basis in European standardization).
To identify potential new construction products using recovered timber.
To examine the business, economic, and environmental factors over the life-cycle to inform what is to be optimized, encouraged and avoided in design (to be described by a "rebuilding factor").
To inform current engineers, architects and wood-based construction product manufacturers through professional development, industry bodies, codes and standards.
This project will widen our perspective and reduce our reliance on new wood from a relatively small number of commercial species – all of which are potentially at risk from climate change, pests and diseases. It will change our perspective from thinking of wood as a limitless resource, to one that should be responsibly managed – not just in the forest, but throughout its useful life.
Quality issues and technical suitability, and reducing production waste, are of importance, but additional challenges also lie in gaining economic profitability, handling logistics and transportation, and getting everyone in the chain to sort in the correct fractions. Working with Design for Deconstruction (DfD) is a new concept, whose principles are yet to be applied in the timber construction industry, which is already facing skills shortages. We cannot solve this working alone. Therefore, in this project we strive to make an impression for the future and show that it is possible to change the attitude by showing actual results, real cases and hypothesis tested at a city that's undergoing a major change (Kiruna).
If you want to stay in touch with the project, you can sign up to our mailing list.
There are 7 work packages
WP1. Coordination and management, Karin Sandberg RISE, Sweden
WP2. Design of timber structures for the future, Anna Pousette RISE, Sweden
(Develop building concepts that optimize the design of wooden buildings to enhance resource efficiency and deconstruction)
WP3. Product design using recovered timber, Annette Harte NUI Galway, Ireland
(Develop new ways to reuse and recycle timber and engineered wood products from demolition, especially into construction products)
WP4. Inventory, deconstruction and quality of recovered wood, Mark Hughes Aalto University, Finland
(to understand the volumes, dimensions and quality of material that could currently be recovered and reused and which might be recoverable in the future)
WP5. Properties of the recovered wood, Daniel Ridley-Ellis, Edinburgh Napier University, UK
(resolve the problem that current standards for building design, and timber product manufacture, require strength grading on a basis that is not compatible with reclaimed wood, and similarly varied new timber from less usual sources)
WP6. Environmental and economic assessment of design for recycling in building construction, Klaus Richter, Technical University Munich, Germany
(understanding the environmental and economic effects from building and product concepts from WP2 and 3, and improving long-term documentation)
WP7. Dissemination and engagement, Carmen Cristescu, RISE, Sweden
(To assist in disseminating the results from all packages to industry and to the general public, including CPD and training)
The research project partners are RISE (Sweden), Edinburgh Napier University (UK), NUI Galway (Ireland), University College Dublin (Ireland), Universidad Politecnica Madrid (Spain), University of Ljubljana (Slovenia), Aalto University Helsinki (Finland), and Technical University Munich.
The industry partners are Kiruna Tekniska Verken, Svenskt trä, Derome Hus, Isotimber, Offline Solutions Scotland, Hegarty Demolition, SIP Energy, Connaught Timber, Stora Enso Espana, Klimark+Nova domus, Puutuoteteollisuus ry, Jelovica HISE, Architekt Brenner, Trä-och möbel företag, and Balcas Timber.
Funding
Project InFutUReWood is supported under the umbrella of ERA-NET Cofund ForestValue by The Swedish Research Council for Environment, Agricultural Sciences and Spatial Planning (FORMAS), Swedish Energy Agency (SWEA), Swedish Governmental Agency for Innovation Systems (Vinnova), Ministry of Economy, Industry and Competitiveness (MINECO) through the State Research Agency, The Centre for the Development of Industrial Technology E.P.E. (CDTI), Federal Ministry of Food and Agriculture (BMEL) via Agency for Renewable Resources (FNR), Ministry of Agriculture and Forestry (MMM), Academy of Finland (AKA), Tekes – the Finnish Funding Agency for Innovation, Ministry of the Environment (YM), Department of Agriculture, Food and the Marine (DAFM), Ministry of Education, Science and Sport (MIZS), The Forestry Commissioners (FC). ForestValue has received funding from the European Union's Horizon 2020 research and innovation programme under grant agreement N° 773324.