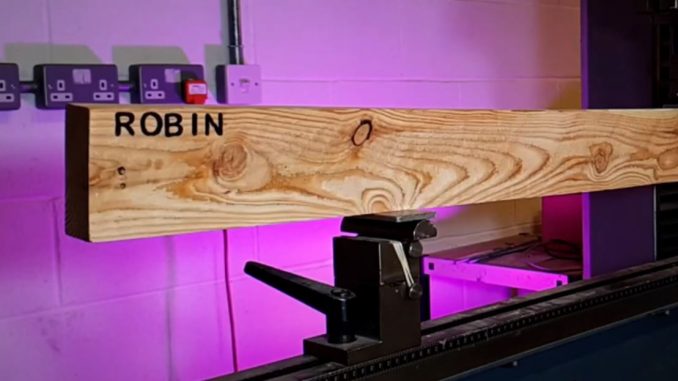 Here are the scores from the second round of the Guess the Strength of Timber game. It worked the same as last time, but with new timber (obviously) and 9 pieces rather than 12 (so the scores aren't on the same scale). You can play the first version as an online game now.
Name
Score
sparkling_hazel_wolf
10
Dynamic MOE
12
proud_oak_bat
15
graceful_juniper_fox
16
gifted_elm_squirrel
gifted_fir_otter
handsome_fir_deer
sparkling_hazel_elk
talented_poplar_adder
11% chance of score 18 or better from random guesswork
18
fantastic_willow_squirrel
glorious_oak_badger
graceful_cedar_elk
lively_holly_finch
magnificent_birch_otter
Growth ring width
20
sparkling_lime_badger
super_willow_woodpecker
wandering_maple_bison
zany_larch_elk
22
amazing_holly_bat
curious_maple_bear
graceful_willow_owl
victorious_holly_robin
victorious_rowan_badger
24
gentle_cherry_fox
happy_beech_squirrel
jolly_pine_woodpecker
lively_willow_owl
lucky_alder_fox
26
Expected score from random guesswork
27
brainy_fir_badger
courageous_juniper_hedgehog
determined_cedar_squirrel
helpful_cherry_wildcat
mysterious_chestnut_squirrel
thoughtful_fir_wildcat
28
brave_oak_wolf
curious_elm_otter
graceful_fir_wolf
helpful_poplar_owl
jolly_birch_bear
No. of knots
30
amazing_fir_elk
beautiful_juniper_hedgehog
curious_elm_wildcat
lucky_poplar_robin
talented_oak_bear
victorious_hazel_ant
zany_cedar_bat
Density
32
brave_ash_finch
determined_yew_bat
helpful_cedar_wildcat
perfect_cherry_ant
sparkling_elm_fox
34
outstanding_spruce_robin
36
wandering_larch_otter
40
*The lower the score the better. Points are given as a distance between the guessed rank and the actual rank of a piece. A perfect score would be 0.
Here is how it broke down: