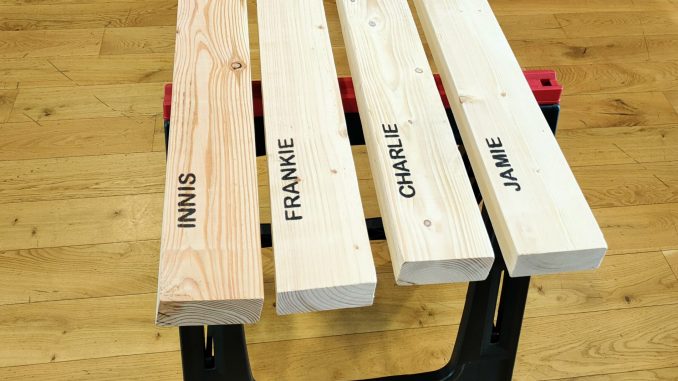 Check out how well you did in our "guess the strength of timber" game. Search for your player code name below.
---
Please also fill a short post-workshop survey!
https://docs.google.com/forms/d/e/1FAIpQLSechLM6Yjcgo4NHe053dPJBVhsKY-SAEXFKapwk57jMK3LQCg/viewform?usp=sf_link
---
If you haven't played the game yet, don't worry, the online version of the game is coming soon! This will also include videos of the testing, and you will be able to see the actual ranking of the timbers and other details, so watch this space.
The scoreboard also contains our best science guesses. We ranked the timbers by the following methods (from the "small brain" method of density only to the "galaxy brain" method of all the non-destructive methods we had available to us):
Density
Wave speed (measured by longitudinal vibration – impact excitation method)
Dynamic modulus of elasticity (MOE) (calculated from the wave speed and density)
Dynamic modulus of elasticity and density
Dynamic modulus of elasticity, density and defects
You can see that most of our science guesses did pretty well. This is not surprising, because dynamic MOE is commonly the best predictor for bending strength that we have (with moderate correlations). In this specific case, it worked best when combined with density and knot measurements, and often adding these improves the correlation slightly. However, on their own knot measurements and density cannot really be used to predict strength. Density is the worst of the science predictors, in fact performing worse than most participants. This is not surprising either, as density and bending strength have a very poor relationship – especially in Sitka spruce. As for knots, most of our participants were using them for their ranking, and you can see for yourself how well that worked.
We scored according to difference in the guessed and actual ranking. So a perfect score would be zero. That means the best guesses were the lowest scores.
Scoreboard
Score*
Player
19
brave_pine_woodpecker
20
splendid_alder_bat
victorious_juniper_adder
Wave speed
Dynamic MOE + Density + Knots
22
famous_ash_hedgehog
24
bright_birch_otter
bright_cedar_finch
mysterious_maple_bison
Dynamic MOE
26
brave_poplar_badger
clever_alder_fox
Dynamic MOE + Density
28
amazing_maple_owl
clever_poplar_ant
super_fir_woodpecker
zany_pine_hedgehog
30
mysterious_ash_bat
powerful_cherry_bison
32
brainy_cedar_wolf
brainy_lime_squirrel
clever_cedar_ant
curious_chestnut_badger
determined_rowan_bear
glorious_pine_robin
perfect_elm_deer
thoughtful_cherry_robin
34
amazing_rowan_bear
fantastic_willow_woodpecker
helpful_elm_otter
9% chance of score 34 or better from random guesswork
36
brave_elm_otter
handsome_larch_woodpecker
happy_cedar_elk
talented_spruce_badger
witty_cherry_deer
zany_ash_hedgehog
38
powerful_rowan_otter
victorious_birch_badger
40
gentle_juniper_elk
powerful_holly_badger
42
eager_oak_woodpecker
43
amazing_cherry_badger
44
Density
46
fantastic_birch_badger
happy_cherry_finch
48
Expected score from random guesswork
50
determined_birch_wolf
famous_rowan_woodpecker
55
famous_oak_badger
*The lower the score the better. Points are given as a distance between the guessed rank and the actual rank of a piece. A perfect score would be 0.
So far, only one participant has beaten our best science prediction (and brave_pine_woodpecker slightly tampered with their score by ranking "Lee" twice and leaving "Innis" out). That said, the science team acknowledges the win of brave_pine_woodpecker ungrudgingly. It is not at all surprising that sometimes experience, gut feelings, or pure luck can beat our best science predictions. After all, science has to rely on correlations that cannot capture all the variation between individual pieces of wood. Part of this variation could potentially be explained by factoring in more variables, but most often these are hard to measure and/or to factor into the equation. Part of the variation might also be truly random. And in the end, the science predictions are good enough for their purpose as they are. In timber grading, predictions are mostly trying to eliminate the worst pieces from a population, instead of predicting the actual strength of a piece. We try and explain that in this video using plums.
Are we, as humans (who have some experience with wood), able to do the same? Well, there seems to be at least some tendency in the results that would suggest so. If we have a look at how often boards were included in the four highest, the four middle, and the four lowest ranks, we can see that three of the four lowest boards were spotted quite reliably.
On the other hand, we also see that none of the pieces was judged the same way by everyone. Each board found itself in the top of some people's ranking and in the bottom of others'. Even with all our combined knowledge, collectively we wouldn't be able to go to the store and choose the four strongest pieces. In many cases we would even buy some timbers that are in the bottom-half of the ranking. But we would be able to choose a set of timbers that is stronger than average, and we would be able to reject a set that is weaker than average. Not that we would need to choose the strongest pieces for our DIY project. The bending strength in the set ranged from 19 to 55 MPa – well above the design value we would assume for C16 timber. We won't tell you (yet) exactly what was in this set though.