This post follows on from the pre-event post.
Two Social Informatics Research Group PhD research students – Marina Milosheva and Drew Feeney– were delighted to present their work at the recent 2023 European Conference of Information Literacy (ECIL 2023) in Krakow, Poland. The Conference was held within the confines of the historic Jagiellonian University, the oldest university in Poland and one of the oldest in Europe.
The theme of ECIL 2023 was 'Experiencing Information and Information Literacy'. This theme was discussed and carried throughout a week of stimulating keynotes, presentations, seminars, workshops and panel sessions, where presenters described information literacy as a 'compass for what matters', and as the 'lifeblood of our decisions and experiences'. The importance and relevance of information literacy in the digital age was underscored, in particular, by professor Professor Sonja Špiranec in her opening address to the ECIL audience: 'since the last time we met in person, we are five years older, but information literacy did not grow old at all!'
The conference theme was closely linked to both Marina's and Drew's current work, and their own presentations as part of this programme reflected this.

Marina's session on the 'Information Literacy Impact Framework', co-authored with Napier colleagues Peter Cruickshank and Bruce Ryan, and sponsored by the Media and Information Literacy Alliance, outlined a potential breakthrough in assessing the experience and impact of information literacy work. Her discussion of information literacy impact was well received by the large audience in attendance. A potential research collaboration on the theme of information literacy impact was also identified in the discussions that followed the session.
Drew's presentation came as part of the Conference's doctoral forum, and centred on his planned PhD work on engaging user-led approaches to develop digital literacy competencies in older adults within Scottish public libraries. Drew outlined, in particular, the participatory methodology that he will be using in this project, and received valuable and constructive feedback on this from an engaged and interested audience.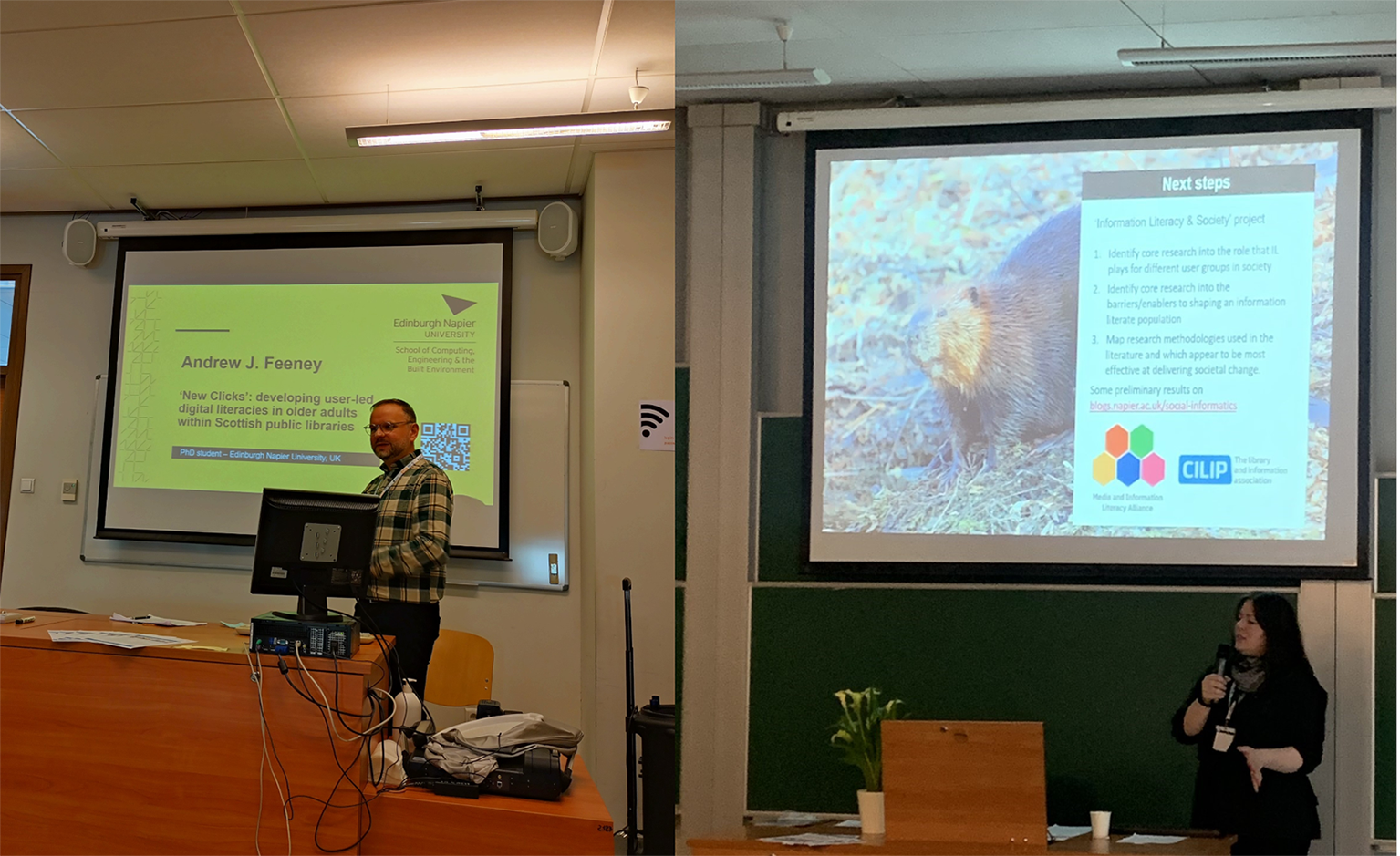 The ECIL conference brought together information scientists from institutions around the world to beautiful Krakow, and once again placed Edinburgh Napier at the heart of these global discussions and issues. Attendance at ECIL 2023 will only further enhance Marina's and Drew's work, and will greatly influence their own experience of information literacy as a global academic discipline and discourse.