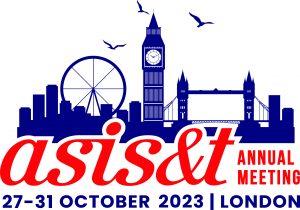 Edinburgh Napier University's Social Informatics Research Group will have a strong presence at the Association for Information Science and Technology's 2023 annual meeting. Check out our panels and posters below! Napier's representatives include Professor Diane McAdie, Associate Professor Peter Cruickshank, Dr Rachel Salzano, Dr Frances Ryan, Dr Bruce Ryan and Maria Cecil.
Bouzy, Chablis, and Mouton Cadet below are locations in the conference hotel.
'Digital Humanities and Information Science: Making A Difference?' panel
Monday 30 October, 2pm to 3:30pm, Bouzy
Diane McAdie, Wayne de Fremery (Dominican University of California), Javed Mostafa (University of North Carolina), Ana Lúcia Terra (University of Coimbra), Javier Cha (Hong Kong University) and Sam Oh (Sungkyunkwan University) will consider the relationship between the digital humanities and information science:
How are information science and the digital humanities different?
How are they similar?
How might work done in one field make a difference in the another?
What might digital humanists and information scientists have to say about translation and the transposition of disciplinary knowledge to and from each respective field?
How might the translation and transposition of disciplinary knowledge in the humanities and information science inform practice, policy, and action in both and beyond?
'Toward Evidence-Based Cataloging Ethics: Research, Practice and Training in Knowledge Organization' panel
Monday 30 October, 4pm to 5:30pm, Bouzy
Diane McAdie, Deborah Lee (University College London), Karen Snow (Dominican University), Violet Fox (Northwestern University) and Elizabeth Shoemaker (Victoria University in the University of Toronto) will consider the bridge between research and practice in cataloguing ethics. The panel will be in three parts:
a panel presentation about cataloguing ethics, including each member's perspectives and experiences on teaching and training in cataloging ethics
small group discussions about real world cataloguing ethics scenarios, utilising the Cataloging Code of Ethics (2021) to generate discussion. The Code was the result of both practitioner input and much research.
feedback to the whole group with a closing discussion about strengthening the relationship between practice and research in cataloguing ethics.
Cataloguing ethics – including indexing and classification – is an important part of practice, yet cataloguing ethics research and practice are not always clearly connected, so this panel will build towards more evidence-based cataloguing ethics practice.
'Towards a Curriculum for Teaching the Ethics of Artificial Intelligence within the 4IR and Society 5.0' panel
Sunday 29 October, 4pm to 5:30pm, Bouzy
Peter Cruickshank, Liezl Hilde Ball (University of Pretoria), Theo Bothma (University of Pretoria), Gobinda Chowdhury (University of Strathclyde), Marlene Holmner (University of Pretoria), Emily Knox (University of Illinois) and Brenda van Wyk (University of Pretoria) will stimulate discussion of burning issues about tertiary students, who, as future citizens, require new attributes to function ethically in the challenging world of the Fourth Industrial Revolution and the emerging Society 5.0:
How can students be prepared to handle ethical challenges, particularly presented by the use of Artificial Intelligence (AI)?
Educators need to re-evaluate their current praxis and be proactive in redesigning the current Information Ethics (IE) curricula.
This panel will tackle six themes to unpack the role of Society 5.0 in teaching and learning of the Ethics of Artificial Intelligence (EAI), the relation between IE and EI, and north-south ethics.
'Community validation as a method to establish trustworthiness in qualitative LIS research' poster
Sunday 29 October, 5:45pm to 6:45pm, Chablis
This poster centres on a core aspect of the scientific process: the verification of the credibility of findings in qualitative and mixed methods research. Discussed in this poster is the efficacy of community validation as a novel method to determine trustworthiness of research findings. This involved research with 'not-yet-participants' to explore the accuracy of researcher findings from analysis of interview data from a different, but related, community of informants. The use of community validation resulted in increased interpretive power of initial results, and of new results to develop understanding of the topic. It is concluded that community validation expands upon current methods of determining trustworthiness in research with a qualitative approach. It is particularly useful for research with participants who are not the population of direct interest, but informants who supply data based on their own observations of the members of the target population, such as Library and Information Science practitioners.
The poster is an output from Rachel Salzano's doctoral study, and was co-authored by Rachel and her supervision team: Professor Hazel Hall, Dr Gemma Webster, and Dr David Brazier.
The full submission can be found here.
'Gendered information landscapes and their impact on routes into and through apprenticeships' doctoral colloquium presentation
Saturday 28 October 2023, 1pm to 5pm (times for full colloquium), Mouton Cadet
Maria's contribution focuses on self-perpetuating gender imbalances in crucial sectors such as technology, engineering, healthcare, and education, and related apprenticeship and work-based learning programmes. Imbalances may occur because STEM fields simply do not appeal to young girls or women, but there is evidence many girls and women do have an active interest in STEM subjects, and that their lack of participation is in fact due to societal constraints, such as gender stereotypes around certain types of occupation. Further, these issues may perpetuate certain cultural norms and barriers within relevant organisations. This will not help with an estimated shortfall of 173,000 workers in the UK STEM sector, which equates to a £1.5 billion cost to the UK economy annually.
Hence, Maria's research focuses on these research questions:
To what extent are apprenticeships segregated by gender in UK nations and internationally?
What are the main current and recent policies and strategies to address gender stereotyping and disparities in young people's choices around WBL and apprenticeships?
What theories address occupational segregation in WBL and apprenticeships, and how do these fit with educational timelines from early years to leaving school?
What gendered influences do young people identify when looking back over their choices of apprenticeships (or otherwise)?
Other Edinburgh Napier social informatics research group attendees
Frances Ryan will attend ASIST as a participant. She is keen to speak with people about potential collaborations, especially in the areas of (1) human information behaviours in managing chronic health conditions or (2) digital proxies, or those who help people to use and access online information and digital technology.
Bruce Ryan will also attend as a participant. He is keen to speak with people about potential collaborations, especially in the areas of information literacy in the contexts of (hyper)local democracy and participatory budgeting, and information avoidance and chronic, self-managed health conditions.