Graduated BSc (Hons) Psychology 2014 and MSc Transnational Crime, Justice and Security 2015.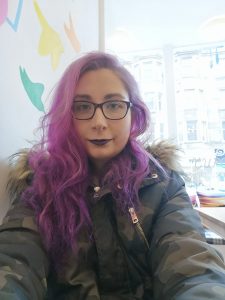 There were several different modules that I enjoyed during my time at Napier, in particular Forensic Psychology classes. I completed my dissertation on what Psychology was getting wrong in the rehabilitation of youth offenders. During my 3rd and 4th year of uni I also became heavily interested in human trafficking – particularly child trafficking – which greatly influenced my decision to apply for a place on the Transnational Crime MSc degree run by the University of Glasgow.
The Masters degree was great and gave me a better understanding of the field of criminology and organised crime and allowed me to research child trafficking in Scotland in more detail through my dissertation. During this time I also volunteered with the Scottish Guardianship Service who support unaccompanied asylum-seeking and trafficked children and young people. I volunteered there for around a year helping in the office.
After my Masters I started a PhD at the University of Stirling so I could investigate child trafficking in Scotland in more depth. I also worked full time with dementia and terminally ill patients while working on my PhD part-time. Unfortunately, working 8-9 shifts in a row while raising a family and completing a PhD was just not manageable and I left my PhD after the 1st year. I also volunteered for Quarriers Life Coaching Service during this time supporting care experienced young people with their goals and mindset.
I then moved on from that support role to working with care leavers at a supported accommodation project in Edinburgh. In that role I worked with young people who had recently left the care system who were transitioning into independent accommodation for the first time.
I now work as an Independent Child Trafficking Guardian with the Scottish Guardianship Service. A Guardian's role is to provide independent guardianship support and advocacy to all unaccompanied asylum seeking and trafficked children, from outside the EU, arriving in Scotland.
I currently work with over 20 young people who live in different parts of Scotland. It is an extremely enjoyable job and seeing young people flourish and gain confidence is a highly rewarding experience. The vast majority of my days are spent attending legal appointments with young people, delivering workshops on the asylum process, trafficking and various integration topics such as a young persons' rights and responsibilities; attending LAAC reviews and Care Plan meetings with social workers and keyworkers; and liaising and co-ordinating meetings/correspondence between social work, residential units, foster carers, the Home Office, solicitors and interpreters. My days are often quite busy but I am fortunate that I am able to work from home. Covid certainly impacted on the face-to-face work that we were carrying out with young people, however our service was able to adapt quite quickly and a lot of appointments and meetings were able to continue online – although I am looking forward to being able to see my young people in person again!