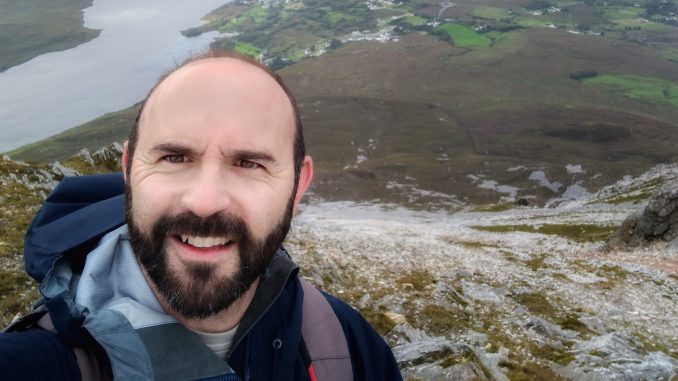 Congratulations to David Gil-Moreno, who has won a Special Award from The Scottish Forestry Trust for his PhD work here at Edinburgh Napier University, in collaboration with our friends at Forest Research.
David's thesis was on the "Potential for noble fir, Norway spruce, western red cedar and western hemlock grown for timber production in Great Britain" and was felt by the Trustees to be a "technically excellent piece of work". If you want the summary of how those species compare to Sitka spruce you can read Forest Research note FCRN026.
We are very pleased, too, that David continues to work in this area of science, and, indeed, continues to work collaboratively with us. He has been working at the University of Ireland, Galway, in our joint project "Woodprops", which has a lot in common with our SIRT project. Both projects include an element of standards support for industry and David is secretary of the European Standards (CEN) committee task group ("TG1") which plays a key role in for structural timber used in the European (and UK) market. The leader of that group, Dan Ridley-Ellis, is his former PhD supervisor.
David was also previously a joint winner of the Royal Forestry Society's James Cup for one of his research papers. So once again we say "Congratulations David! And thank you for your great work"
David whose current role involves the characterisation of Irish-grown timber species for the best utilisation of forest resources and the diversification of the timber supply said:
"I cannot stress enough how grateful I am to The Scottish Forestry Trust for supporting my PhD. As we are becoming more aware of climate change and the consequences that it will bring it seems more evident the need to use low embodied carbon materials in construction and to diversify the timber supply. My thesis showed that there are species with structural quality and merchantability that can contribute to diversifying the timber industry in Great Britain. I am extremely proud of the work leading to my PhD thesis, and this award means a great deal to me".

David Gil-Moreno
As David highlights there – this is all part of work improving home-grown timber in the UK and Ireland – in particular diversification of species to reduce risks from pests and diseases and climate change. The past year or so has revealed what challenges can arise when there is not enough timber to satisfy the demand – for things essential to everyday life. This research helps with the balance of different priorities and expectations of trees and forests – giving more options and more information to enable us to plan ahead. And on that topic…
The Scottish Forestry Trust awarded this year's Scottish Forestry Student Excellence prize to Vanessa Burton a Spatial Scientist with Forest Research who completed her PhD at Edinburgh University. Her thesis "Visions for woodland expansion in 21st Century Scotland: alternative governance strategies and ecosystem service implications" explored how governance and who makes decisions, influences both woodland expansion and the ecosystem services delivered. Congratulations to Vanessa – important work.
(This prize was awarded to one of our PhD students, Greg Searles, in 2013. His thesis was on "Improving the quality of Sitka spruce structural timber through raw material segregation and alternative sawmill cutting patterns – Acoustic segregation and structural timber production".)
"We are entering a time of great change for forestry. If we are to make the most of the opportunities for an expansion of tree cover and of the benefits that trees and woods bring, we need good research to underpin what we do. That is why the Scottish Forestry Trust is delighted to recognise the work of young researchers through its Student Excellence Award which is supported by Scottish Woodlands.
We are also grateful to the Forestry Commission, Scottish Forestry and Natural Resources Wales who have co-funded our Bursary Scheme which over a 10 years period has supported 23 research studentships."

Dr Keith Kirby, Chair of the Scottish Forestry Trust's Projects and Research Committee
The Scottish Forestry Trust is a Charitable Trust (SCO08465) providing funds for research, education and training in support of British Forestry. It has a remit to provide private sector funds to support research and education throughout the British forestry industry. Since 1983, the Trust has provided in the region of £3m to 300 projects ranging from supporting post graduate education through to contributing towards industry applied research and assisting policy formulation.
This is a key source of funding for research – including our own here at Napier – and we are grateful for all the support we've had from the Scottish Forestry Trust over the years – and for the work they do supporting the great work of others for the wider benefit of all.