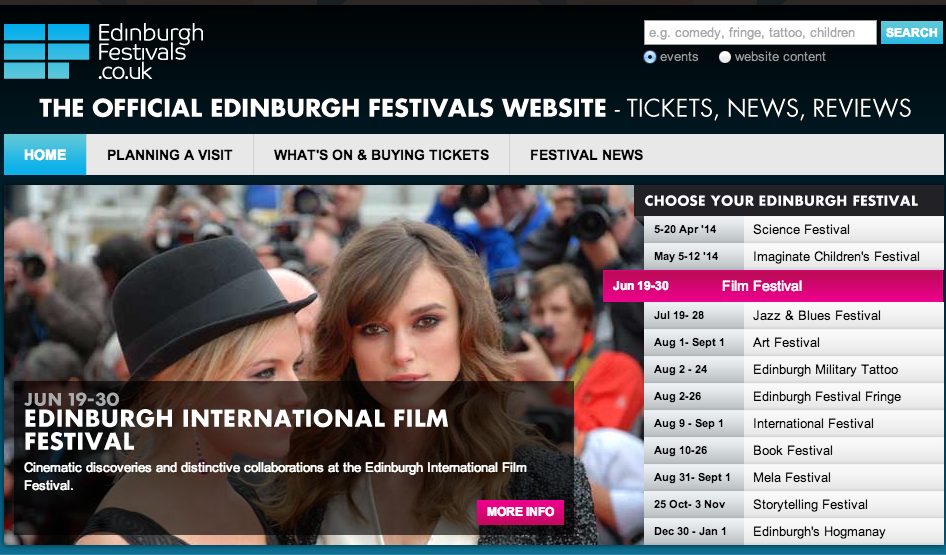 If there is one sure thing about Edinburgh, is that it won't let you down in terms of entertainment! As it is commonly known as the city of festivals, Edinburgh has events for every age and interest all year round, so today I'm gonna give you my breakdown list!
Fringe & Tattoo Festival
BOTH FREE AND FOR PAY EVENTS
One of the most appreciated and one of the most popular festivals, the Fringe happens every year during the month of August. Along with it, the Tattoo Military Festival takes place in town. The festival includes an extremely high number of performances, both on the street and in theatres, and it culminates with the Tattoo Show right in front of the Castle. Amazing atmosphere, believe me, you've never seen such a smiley city and you've never experienced such a happy feeling walking around a city!
Edinburgh International Film Festival
BOTH FREE AND FOR PAY EVENTS
Another favourite, the EIFF hosts every year great names and movies. This year the focus is onSwedish and Korean productions, which is very exciting. The festival usually takes place in May and it goes on for about 10 days.
Beltane Fire Festival
FOR PAY EVENT
As one of the most visually interesting festivals, the Beltane Festival takes place on Calton Hill at the end of April. Fire, colours and tribal rhythms will make you feel like you're in a movie! Highly recommended if you've never seen amazing fire choreographies.
Meadows Festival
FREE FESTIVAL
Slightly less known, the Meadows Festival is usually a great opportunity to spend a (hopefully sunny and warm!) day with your friends, dancing, listening to the music or simply chilling. It's usually organised for the beginning of June and it offers live music, merchandise stalls and food stalls. Check this out to learn more about it!
New Year's Eve Celebration (Hogmanay)
BOTH FREE AND FOR PAY EVENTS
Incredible three days of celebration! This is the longest European New Year's Celebration (three days) and my favourite part is definitely the Torchlight procession, which starts somewhere on the Royal Mile and ends on Calton Hill with a spectacular fireworks show (Free event, torchlight costs £6/7). Hogmanay is a festival that needs to be experienced if you're coming to Edinburgh, and the final concert will definitely make you feel chills! Tickets are usually around £30.
Virgin Money Fireworks Concert
FREE EVENT (based on location)
It usually states the end of the summer festivals and it's an emotional event at the beginning of September (usually on the 1st, right after the Tattoo Military Festival). The Castle will be covered with sparkly fireworks creating an unforgettable atmosphere. Make sure to grab a good spot (if you don't want to pay, Calton Hill is a good solution, otherwise the corner next to the Caledonian Hotel on Lothian Road!
Edinburgh Jazz & Blues Festival
FREE AND FOR PAY EVENTS


Another great festival, here music is at the centre of attention. The Edinburgh Jazz and Film Festival organises

several concerts

, and many of them are

free

e.g. Mardi Gras and Edinburgh Festival Carnival. Why missing out? This festival takes place during the second part of July and hosts many international names.

Edinburgh Open Doors
COMPLETELY FREE!


One of my favourite days of the year! This is your chance to explore some of Edinburgh's most architecturally, culturally and socially significant buildings. Many venues feature behind the scenes tours, activities, exhibitions and/or talks which bring the history of the building, garden, cemetery or monument and its everyday use to life. Some sites organise additional free activities for children and families. This is a good chance visit the Castle and many other attractions that usually apply a entry fee e.g. Zoo. This year Edinburgh Open Doors will take place on the 28th and 29th of September, 2013.
Carlotta 🙂