West Lothian College extends agreement with ENU for Business Degree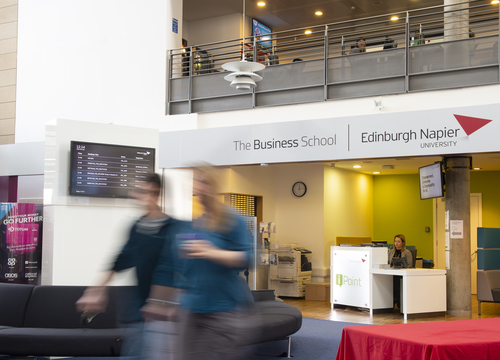 West Lothian College and Edinburgh Napier University have signed a further 5-year collaboration agreement for the delivery of Level 9 of the BA Business Management degree.
Both educational institutions are committed to widening access to increase the number of young people and adults from underrepresented backgrounds to progress to higher education.
This agreement has been reached as the College and University celebrate working collaboratively for more than 15 years, increasing opportunities for students to access learning at degree level while remaining as students at West Lothian College.
To support students studying the degree, Edinburgh Napier lecturers deliver pre-recorded lectures online. This means that West Lothian College students do not have to travel to the University's Craiglockhart Campus in Edinburgh. West Lothian College lecturers offer pastoral support to degree students throughout the year. This means that local delivery of the degree is supported by the College lecturers, who students have worked with closely since their first year of studying HND Business.
Students continue to benefit from a refreshed, relevant degree programme which enhances their employability, as well as regular engagement with staff from both institutions while studying locally in West Lothian.  This is a unique offer from Edinburgh Napier University which is not being repeated in any other college and is effective from September 2023.
Hazel Brady, director of the business faculty at West Lothian College said: "Building on the great success of our long-established collaboration, we are excited to extend our agreement with Edinburgh Napier University. This provides our students with an exceptional learning experience, equipping them with the skills and knowledge to thrive in a highly competitive and rapidly evolving business world."