The Business School Masters Series: Creating an Innovation Culture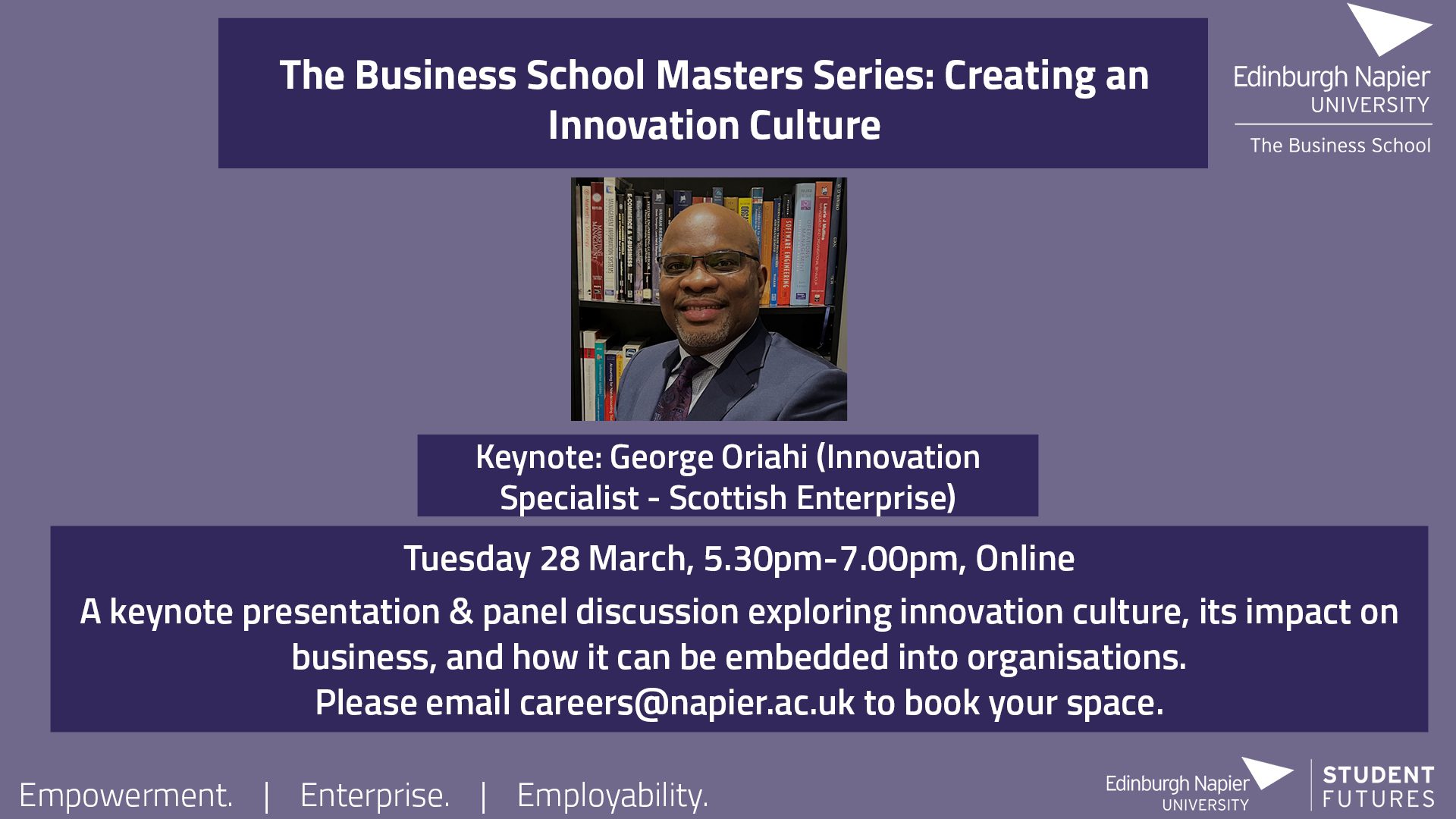 This trimester, The Business School Masters Series will feature a keynote presentation from George Oriahi (Innovation Specialist – Scottish Enterprise) who will explore the concept of innovation culture and its impact to businesses, especially in the current challenging economic climate.
George will share insights and experiences from his 17 years of supporting businesses across all sectors to derive and implement innovation strategies while remaining competitive and resilient. He will also discuss the strategic differences students and graduates could bring to businesses by helping them embed and manage an innovation culture.
The keynote will be followed by a panel discussion featuring George alongside other guests, which will be hosted by Dr Abhishek Agarwal (Associate Professor in Strategy & MBA Programme Leader, The Business School), and will provide attendees with an opportunity to have their questions answered.
This event takes place virtually on Tuesday 28th March 2023 at 5.30pm-7.00pm, and is open to all staff, students and alumni. To book your place, and for more information, please visit the My Napier event page (click here), or email careers@napier.ac.uk.
About George Oriahi:
George Oriahi is an Innovation Specialist at Scottish Enterprise, providing advice to businesses to assist in the development of new products and services, improve processes or productivity. He works across all sectors, bringing vision, insight, and empathy to the role. With over 17 years in Scottish Enterprise, George has supported several hundred businesses to create innovative products and services for the global market. His passion for innovation and technology is evident in all his work and his enthusiasm for finding new solutions is inspiring. George has a BSc in Systems Engineering and a MSc in Electronic Business Management.
About The Business School Masters Series:
The Business School Masters Series is organised in partnership with Student Futures and is targeted at postgraduate and final year students but is open to all including staff and graduates. Each trimester, it features a keynote and panel discussion that provides an opportunity to hear from senior professionals from across the business world, who will share their experience and expertise as well as practical career advice. The events are themed around The Business School's vision of empowerment, enterprise, and employability for all.