Lockdown and an unseen challenge: domestic abuse
Dr Richard Whitecross, Head of Law at Edinburgh Napier University, writes on the challenge of domestic abuse under lockdown and provides signposting to sources of support.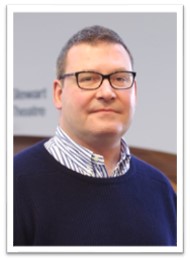 Over the past three months, the impact of coronavirus on the NHS, on jobs and the economy has dominated the news. At UK and devolved level, governments introduced legislation to govern how we should behave to slow down the spread of the disease.
This led to the closure of schools, universities, offices and "non-essential" shops, social distancing of 2 metres and a prohibition on leaving our homes, unless one of four exceptions applied. We are (or were) only permitted to leave our homes for the following reasons:
Shopping for basic necessities e.g. food and medicine
One form of exercise each day e.g. walking, running or cycling alone or with other members of your household
Any medical need including providing care or help for a vulnerable person
Travel for work purposes but only where it is not possible to work at home
Rules that some high profile figures chose to disregard.
Lockdown has not been easy for many people. However, we must recognise the impact of lockdown on those women living with abusive partners. Among the headlines have been deeply worrying reports of the increase of domestic abuse.
The COVID-19 pandemic has resulted in increased levels of violence. Domestic abuse prevention and support hotlines across the UK, as well as in other countries, are all reporting higher levels of calls.
The lockdown and stay at home measures introduced in March together with movement restrictions have increased women's exposure to violent partners. The economic stresses from loss of work, of employees furloughed probably contributed to this escalation in violence.
In England and Wales it is reported that between 23 March and 12 April, 16 domestic abuse killings were identified by the Counting the Dead project.
Let us put that into context. The average for the same period over the previous ten years is five. Refuge, a charity supporting women, reported a 66% increase in calls to its national domestic abuse helpline.
What has become clear is the importance of data collection. On 20th April, the Council of Europe issued a Declaration on the Implementation of the Convention on Preventing and Combating Violence against Women and Domestic Violence (Istanbul Convention). Among the key principles emphasised in the Declaration is Article 11 (Data collection and research).
Robust and appropriate data is essential "to ensure measures in place to prevent and combat violence against women and are aligned with developing needs during the pandemic and to draw lessons for the future." In May, a BBC report on domestic abuse calls to 41 police forces across the UK, including Scotland, showed 19 recorded higher numbers of calls during the first week of lockdown compared to the same period in March 2019. Worryingly, 22 recorded a drop with Scotland reporting a 9% decrease on the same period in March 2019.
The accuracy and consistency of data gathered has been under the spotlight over the past three months in relation to deaths associated with the coronavirus.
It is equally important that we are able to gather reliable data on the impact of lockdown on the women and children. Just as adjusting our behaviours was, and is, important to control and address coronavirus, good data on domestic abuse can shift social attitudes on domestic abuse.
Below is information about how to contact appropriate local and national sources of support. This information can encourage women to seek help. Above all, it can save lives.
Police Scotland
999 – Emergency 101 – Non-Emergency
Scotland's Domestic Abuse and Forced Marriage Helpline
0800 027 1234 – 24 hours a day, 7 days a week. Free and confidential service for anyone of any gender who has experienced domestic abuse or forced marriage.
helpline@ndafmhs.org.uk (response within 2 days by email).
There is also online chat through the Scottish Women's Aid website (https://womensaid.scot/contact-us/) and information to help find local support.
Rape Crisis Scotland Helpline
08088 01 03 02 – between 6pm and midnight every night or by email support@rapecrisisscotland.org.uk
Full details of access to support for people who are deaf or hard of hearing can be found at https://www.rapecrisisscotland.org.uk/help-deaf-access-to-support/
We can arrange for language interpreters. Free and confidential support and information for anyone, women and men, affected by sexual violence, no matter when or how it happened.
Female Genital Mutilation (FGM) helpline (run by NSPCC)
0800 028 3550 – 24 hours a day, 7 days a week
Free and confidential help for anyone who is worried a child is at risk of, or has had, FGM.
Childline
0800 11 11 – 24 hours a day, 7 days a week
Free and confidential service to help anyone under 19 in the UK with any issue they are experiencing. Email and online chat available https://www.childline.org.uk
Respect Phoneline
0808 802 4040 – 9am-5pm – Monday-Friday
Free and confidential service for anyone who is concerned about their own behaviour towards their partner (male, female, in heterosexual or same-sex relationships).
Amina Muslim Women's Resource Centre
0808 801 0301 – 10am-4pm, Monday to Friday
Help for women in English, Urdu, Arabic, Punjabi, Bangla and Swahili and, when required, using online interpreting.
Shakti Women's Aid
0131 475 2399 – 9.30am-4pm – Monday to Friday
Help for black and minority ethnic (BME) women, children and young people who are experiencing, or who have experienced, domestic abuse.
Scottish Women's Rights Centre
Phone: 08088 010 789
Help for self-identifying women aged 16 and over affected by violence and abuse by providing free legal information and advice through helpline, legal surgeries and ongoing casework.
Legal information
Monday 2 – 5 pm
Tuesday6 – 8 pm
Wednesday11 am – 2 pm
Friday10 am – 1 pm
Advocacy support
Tuesday 11 am – 2 pm
Sexual harassment
Thursday 5 – 8 pm
National Stalking Helpline
Phone: 0808 802 0300
This is a confidential service if you're impacted by stalking. They will provide impartial advice and information to men and women, including:
how to identify if you're being stalked
the law on stalking
how to protect yourself
talking to the police
Victim Support Scotland
Phone: 0800 160 1985
Gives free and confidential support to men and women, and practical help for victims and witnesses of crime.