Business School Post-Graduate Research Conference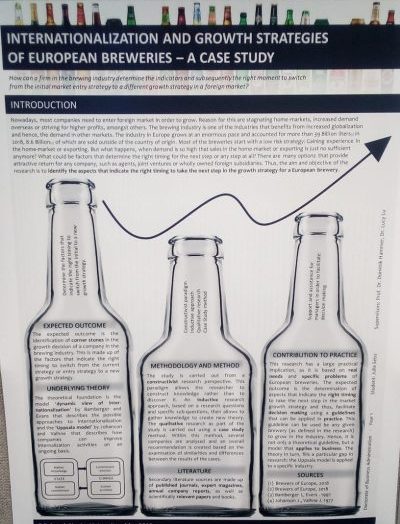 The Business School ran its twelfth annual research conference in May. This year the key note was provided by Professor Peter Murphy, Nottingham Trent University and a REF panel member.
The conference was well supported by our doctoral community from home and abroad, including full time and part time PhD and DBA candidates. Presentations and posters were highly commended by Professor Murphy, and were acknowledged at a prize giving which has been supported generously since 2013 by Dr David Dick, an ENU PhD Graduate.
The Research Excellence Awards were presented to students Julia Seiss and Jonas Gerhaeursser for their respective work on 'Internationalization and Growth Strategies of European Breweries', and 'A critical examination of the architecture of distribution channels for SME outdoor sports brands in Germany'.
In line with student demand, a session was held debunking the viva, which allowed candidate's to explore viva processes and procedures. Sessions also included a round table discussion with contributions from senior professors and chaired by our very own Professor Alison (Jeremy Paxman) McCleery.
Some of the prize winning posters are now on display in the foyer and several students are presenting their work at the University post graduate research conference on 18 June.
Research posters cover a diverse range of topics, including:
Readiness to change amongst managers in regard to the adoption of AI within a Scottish bank
Enhancing academic-industry links: Key challenges and prospects for Scottish University Business Schools
Helping SaaS companies to lead in the global skills crisis: Mapping digital education routes-to-market and examination of their influence on product adoption
Centring the client organisation in a global account management programme: Key challenges for managers in the food services industry
The challenge of business development in General Dental Practice: The interface of practitioners' professional self-perception and business objectives
Red flagging fraud: Optimising fraud prevention strategies in SMEs
Localising Sustainability: An examination of business sustainability management in small island developing state