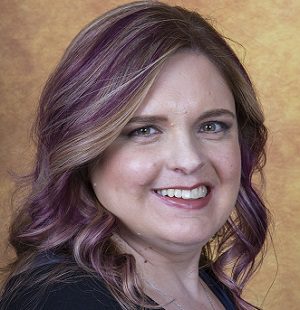 I'm delighted to post here that Edinburgh Napier University has appointed me, Diane M. Rasmussen Pennington, as Professor of Social Informatics.
I arrived at Edinburgh Napier in January 2023 from the University of Strathclyde's iSchool, where I was a Senior Lecturer in Information Science and the Director of the Information Engagement Research Group. I have taken over my new role here as Director of Edinburgh Napier's Centre for Social Informatics/Social Informatics Research Group from Associate Professor Peter Cruickshank. Previously, Prof Hazel Hall led the Centre. She retired in 2022 and is now Emeritus Professor – you can read more about that on her blog here.
I earned an MS and a PhD in information science from the School of Library and Information Sciences (now the College of Information) at the University of North Texas and a PGDip in Academic Practice from the University of Strathclyde. I hold the permanent title of Visiting Scholar at the University of Sydney. I am a Fellow of Advance HE and of the Royal Society of Arts. I am also an Honorary Member of CILIP Scotland (CILIPS).
My research centres around social informatics, which examines broadly the relationships among people, society, information, and technology. My current areas of focus are ethical cataloguing, non-textual metadata, social media, and online health information provision. I have edited two books: Social media for academics: A practical guide and Indexing and retrieval of non-text information, and I co-edited Social tagging in a linked data environment. I have delivered over 150 peer-reviewed/invited presentations, and I have published more than 40 articles in highly-ranked information science journals such as Journal of Documentation, Library & Information Science Research, Knowledge Organisation, Journal of the Medical Library Association, and Journal of Information Science. I have participated in research projects funded by multiple agencies in the United States, Canada, and the United Kingdom.
I continue to supervise my doctoral students who remain at Strathclyde. I am teaching Information Interactions, Advanced Information Interactions, and Digital Business Environments, as well as supervising MSc students in the 2023 spring and summer trimesters. At my previous universities, I taught modules in cataloging and classification, organisation of information, social media for libraries, research methods and statistics, systems analysis, business intelligence, database design, web usability, web development, metadata, indexing and abstracting, and library systems. I have supervised many postgraduate research projects, and I have served on many thesis supervisory committees and thesis examination committees.
I am currently Chair of the Metadata and Discovery Group in the Chartered Institute of Library and Information Professionals (CILIP), the 2023 Vice President of CILIPS, a Standing Committee Member of IFLA's Training & Education Section (SET), a Co-Chair of the iSchools Women's Coalition, and staff at The U2 Conference. I am a former Chair of ASIS&T's European Chapter and a past president of the Canadian Association for Information Science (CAIS/ACSI).
More details are available about my academic record on my personal website and on my Edinburgh Napier staff profile page.