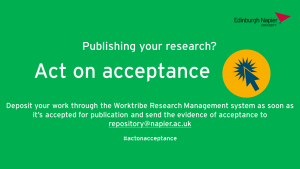 To help our research-active staff ensure their work is eligible for the REF (Research Excellence Framework), there is just one simple message to remember: 'Act on acceptance'.
This means that as soon as your work has been accepted for publication, deposit the final peer-reviewed manuscript in the University's research repository. Act on acceptance is a good habit to get into and one that's essential for making sure publications are eligible to be submitted to the REF.
Use your normal University network details to log in to Worktribe. The four-step process to deposit a research output is:
Create a record
Add your accepted manuscript
Click the deposit button
Forward your acceptance email to repository@napier.ac.uk
This last step is important: after you've deposited your work in the repository, send the evidence of acceptance date to repository@napier.ac.uk. Articles need to be deposited within three months of acceptance.
If your article is being made open access through the gold route, please add information about this to the repository record.
Any questions or comments? Send them to repository@napier.ac.uk
Further information
Edinburgh Napier University's Open Access Policy