As the knock-out stage of the Qatar World Cup kicks off, a new generation of football heroes are being forged. One name now familiar in most UK households is Kylian Mbappé. In 2018, the French striker – then aged just 19 – became only the second teenager ever to score in a World Cup Final. (The first was Pelé, in 1958.) It's the stuff that dreams are made of.
2022 is already a bumper year for football heroes, with the summer success of England's Women's team captivating everyone, not just football fans… and also making household names of young players like Lauren Hemp (21) and Georgia Stanway (23).
There are now thousands upon thousands of youth footballers, right across the UK, who are dreaming of a future moment when they too can lift a trophy.
But football is a grassroots game – with more than 60,000 youth players registered in Scotland alone – and while not every player will make it to a Cup final, let alone a World Cup, everyone can improve and enjoy playing to the full in their local team.
The value of science in youth football/grassroots football is being promoted by Scottish-based SoccerPDP.com, based on academic research by Dr James Dugdale of Edinburgh Napier University.
"We have worked with James since he was a PhD student at Stirling University, where we funded his studies to validate data for our app" explains founder and CEO Jacob Gordon.
Dr Dugdale is now supervising his own PhD students in the School of Applied Sciences at Edinburgh Napier, and both Alban Dickson – the psychologist with Heart of Midlothian – and nutritionist Saumya Khullar will see their PhD research applied for practical benefit, helping nurture young players through the SoccerPDP app.
SoccerPDP provides an in-depth development plan across four key pillars: strength and conditioning, nutrition, psychology, and technical skills. That empowers every player to maximise their potential and help realise their long-term ambitions within the game.
"Our science-based approach provides players with a pathway to improve," says Jacob. "We demonstrate how the exercises and drills should be carried out, along with the scientific reason behind each training task, allowing young players to gain an understanding of how each action will help them improve their game, alongside regular training and matches."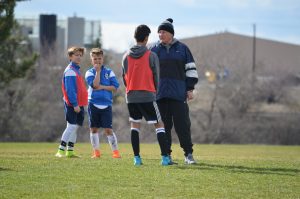 James adds: "The app focuses on players aged 10 – 18, who can track their development individually. Both our new PhD's are looking at aspects of communication, to better engage the target market."
The research will inform new iterations of the platform, and both PhDs are being co-funded by SoccerPDP and Edinburgh Napier, (which also offers a unique BSc degree in Football Coaching, Performance, and Development, backed by the Scottish FA).
SoccerPDP provides access to a 12-month personal development plan for players of all abilities, and can be used by players, their parents, and coaches. It provides techniques, support, and education opportunities to improve performance both on and off the pitch.
Everything Soccer PDP does is based on sound scientific theory. Developed initially in partnership with academics at the University of Stirling, the programme continues to apply the latest scientific advances and understanding to provide accurate assessment, which helps track the progress of players throughout their development.
"With support from an international research network of collaborators, our system now brings an inclusive and standardised approach to the development of grassroots footballers," says Jacob. "We create a highly accurate 'football CV' that allows a player's development to be continuously tracked and benchmarked against their previous performances and the results of others."
More>> https://soccerpdp.com
BSc (Hons) Football Coaching Performance and Development (with Scottish FA) Undergraduate Full-time (napier.ac.uk)