Science plays a vital part in all our lives. But what if Science were to suddenly be seen as, not a solver of climate change but as one of the significant polluters of planet Earth? Single-use plastic is the dilemma that faces every student and scientist working in labs today.
Even a small lab can get through vast stocks of single-use plastics. Gloves, pipettes, tubes, Petri dishes and vials are disposed of because they are contaminated and considered unrecyclable.
In 2018 lab technician Lisa McMillan and Technical Assistant Jo Brown decided they had to try to make the SAS labs' plastic recyclable.
Like many groundbreaking ideas, Lisa and Jo's research and development started in their own time; they began to formulate their approach on days off and after work.
At the start of 2019, they were ready to present to the University's Staff Sustainability Network Group.
From this initial in-house presentation, Lisa and Jo moved on to share their work with colleagues from other universities across the UK. They started by presenting At the HeATED Regional Network Event held in Belfast. Some of the universities present included St Andrew's, QUB, Edinburgh, Sheffield and Ulster.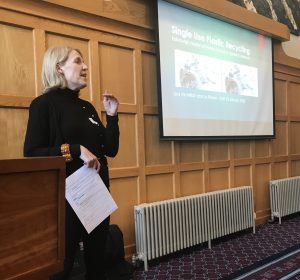 Many more presentations and networking events are continuing to provide momentum for Lisa and Jo's work. Their influence continues to grow, and in 2021 another impressive array of UK universities and institutes were present to hear about Lisa and Jo's protocol at the EAUC Zoomscot share. The interest in their method had begun to widen to include the labs of Kings College London, the Institute for Cancer Research and the National Oceanography Centre. And the duo has also recently contributed an article on their work to Microbiologist magazine.
Back at their homes in Scotland, Lisa and Jo continue to fine-tune their protocol and work on new ideas. Every day in the labs of Napier University, they put into practice their first-ever safe recycling method.
Since they introduced the system in the SAS labs, they have sent an impressive 1500KG of single-use plastic that would otherwise have been sent to landfills to be recycled instead. If you have trouble visualising exactly how much plastic 1500Kkg represents, just think of 40 large external dumpsters.
Every year, a new cohort of students join Napier University. Every year, those students become increasingly aware and angry about the damage that plastics are doing to the planet. But one thing Napier students can be reassured about is that somewhere in the labs of the University a dedicated Lisa and Jo will continue to build upon their success and work towards creating more methods to make single-use plastics recyclable and ultimately to work towards reducing Science's impact on the environment.
Contact