In line with the Edinburgh Napier's commitment to students gaining valuable first-hand experience, two postgraduate Sports & Exercise Sciences students were recently scheduled to work with Falkirk FC's squad, to produce a pre-season assessment.
The Club's players assembled at the state-of-the-art laboratories at Sighthill in June, to take part in a series of tests designed to record everything from their percentage body fat to their counter movement jump height.
The session was run by Laboratory Technician, Russell Wilson, and two Sport Performance Enhancement MSc students, Kieran McManus and Jack Brennan. They soon had the squad working hard:
Using the School's new SECA portable body composition analysers to measure variables such as overall body fat percentage, resting energy expenditure, sectional skeletal muscle mass measurements and visceral adipose tissue.
Performing counter movement jumps and squat analysis using Kistler force plates. These provide information on jump height, relative maximal power and time spent in each phase of the jump/squat.
The club's physio also requested hamstring force measurements, to establish pre-season baseline hamstring strength.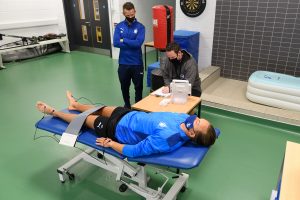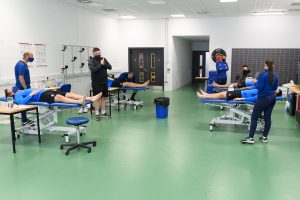 The following day, Kieran and Jack attended Falkirk's stadium to assist with some additional testing. There, the students ran the players through some speed and agility drills, including straight sprint speed testing and the 5-0-5 agility test, using Witty timing gates to provide accurate velocity information.
Graeme Henderson, Head of Performance at Falkirk FC, was delighted with the sessions, which were also attended by Falkirk's head coach, Paul Sheerin, and the club's head physiotherapist, Rachel Gillen.
"The data will prove invaluable over the course of the season," said Graeme. "It gives us an ability to provide a comparison throughout the season in relation to the physical levels we expect of our squad. It also helps with return to play protocols, should any player unfortunately suffer from injury, as we can compare to the baseline scores we now have.
"Throughout the process, the support we received from Edinburgh Napier has been excellent and highlights their ability to assist elite level athletes. The Master's students provided insight in interpreting data, further underlining the world class level of academic learning provided at Edinburgh Napier."
These interactions underline the University's commitment to strengthening its existing relationship with the Scottish FA, who accredited a new undergraduate degree in Football Coaching, launched in 2019.