Edinburgh Napier University has announced two Entrepreneur in Residence appointments through The Royal Society funded programme that is aimed at helping UK academic institutions to turn world-leading research and ideas into commercial impact and success.
The newly appointed Entrepreneurs in Residence will spend 20% of their time over a 12 month period with Edinburgh Napier University, sharing their experiences and helping to mentor, inspire and support students and academics with entrepreneurial goals and ideas.
The entrepreneurs appointed at Edinburgh Napier University are Dr Jamie Graves and Robert Goodfellow.
Robert Goodfellow, pictured above, was previously Head of Enterprise & Business Development at Heriot-Watt University. He will be working closely with the School of Applied Sciences to pass on his knowledge and help with entrepreneurial development,
Robert said "The Edinburgh Napier Applied Sciences Commercialisation and Entrepreneurism Training project (NASCENT) will identify & commercialise health & wellbeing IPRs, develop new staff and student entrepreneurs and build a lasting "commercial culture" across the three campuses".
Dr Jamie Graves, who started his career as a research fellow in Napier's School of Computing and went on to found and develop multi-award winning cyber security start up ZoneFox, will be bringing his experiences of developing IP to commercial impact to the School of Computing. Jamie said  "The purpose of this EIR project is to aid Edinburgh Napier University in its ambitions to replicate existing spin out and commercialisation success in its Centre of Cyber Systems & Cryptography. The work will  promote and emulate this success across the School of Computing.
"The project will aim to build a sustainable pipeline of entrepreneurs across all academic cohorts via a series of awareness and training events in order to increase commercial activity.
"Edinburgh Napier was the launch pad for me and my future successes so to be coming back as an Entrepreneur in Residence is really exciting and a great honour. I'm looking forward to being able to bring back some of the lessons I learned during my journey but also learning more during this new experience."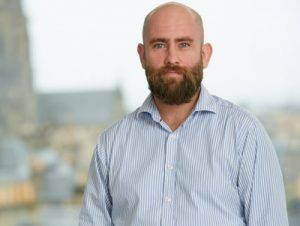 Commenting on the appointments, Fiona Mason, Head of Business Engagement and IP Commercialisation, said: "We are thrilled by the Royal Society's support for the appointment of these two entrepreneur-in-residence posts. They will bring invaluable insight and experience to the University to the benefit of our staff and students. We are honoured to work alongside two such stellar and seasoned entrepreneurs and look forward to develop with them a successful programme for the future".
Nick Fannin, Head of Enterprise at Napier's Bright Red Triangle, who have helped support over 400 Napier student start-ups, also shared "We are really excited to be working with Jamie and Robert as Entrepreneurs-in-Residence this year. Their knowledge and experience will not only energise and inspire entrepreneurial activity across the University but also help our spin-outs and start-ups to take their businesses to the next level."