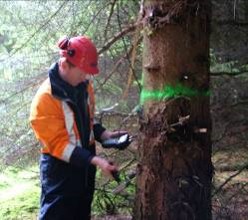 The organisers have announced the 20th International Nondestructive Testing and Evaluation of Wood Symposium, which will be held in Madison, Wisconsin, USA, September 12–15, 2017. (PhD student, David Gil-Moreno presented his research at the previous conference)
This symposium will be hosted by the USDA Forest Service Forest Products Laboratory (FPL) and is co-sponsored by the Forest Products Society (FPS) and the International Union of Forestry Research Organizations (IUFRO). The conference will be held at the Forest Products Laboratory, which is situated on the campus of the University of Wisconsin–Madison.
The website of the symposium has details of the program, abstract submission, special events, and post conference tour.
Subject Areas
– Nondestructive characterization of wood and wood-based materials
– Evaluation of forest materials for optimal utilization
– Advanced grading technologies for solid wood and engineered wood products
– Condition assessment, evaluation, and repair of existing wood structures
– Condition assessment of historic wood artifacts and structures
– Evaluation and assessment of urban trees
– Industrial application of emerging nondestructive testing technologies
– Other nondestructive evaluation related research and development activities
Deadlines
Abstract Submission: February 1, 2017
Notification of Acceptance: March 1, 2017
Paper Submission: August 1, 2017
Registration: August 31, 2017