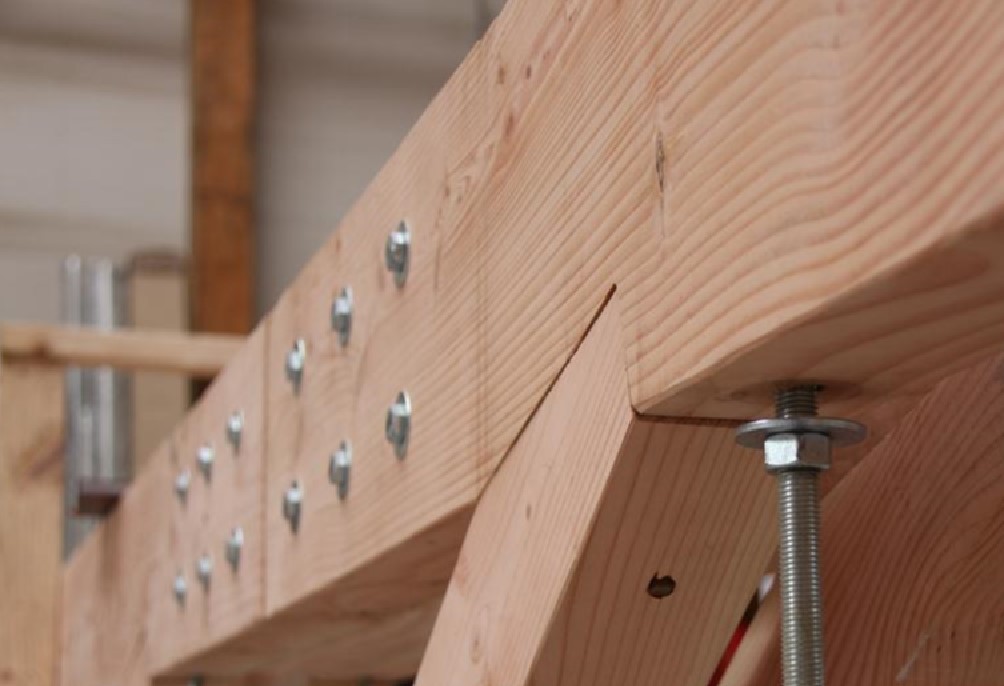 We are holding a seminar, jointly with the Centre for Offsite Construction + Innovative Structures, for the Scottish Regional Group of the Institution of Structural Engineers.  It is also open to non-members.
Tuesday 20th September 2016 2:30pm for 3:00pm
Stirling Court Hotel – University of Stirling
Four hours of CPD covering:
Timber material properties, grading techniques and ways of optimising selection.
Timber Connections Design theory to Eurocode 5, including a demonstration of how to undertake value engineering.
Timber products and systems including solid laminate timber systems, dowel-lam, nail-lam, and cross-laminated timber.
Timber is a versatile, natural, material with a wide range of properties. When properly understood, responsibly sourced, and produced through modern forestry and manufacturing processes it can provide technically capable, renewable and environmentally friendly construction products. Combining timber construction components appropriately through holistic design, informed detailing and quality-assured building practices will result in a highly energy efficient building fabric that provides user comfort.
Developments in offsite manufacture and modern methods of construction (MMC) mean that there is far more to offsite timber systems than conventional timber frame construction – such as solid laminate timber products including mechanical laminated systems (nail-lam or dowel-lam also known as Brettstapel); and bonded laminated systems including GluLam and cross-laminated timber (known as CrossLam, or CLT).
Registration (via form – download pdf here or visit the IStructE website):
Graduate Members of IStructE £60
Other Members of IStructE £70
Non Members of IStructE £80
Programme
1430 Arrival, Refreshments
1500 Timber Material Properties
1530 Grading techniques and ways of optimising selection
1630 Break, Refreshments
1700 Timber Connections – Design theory to Eurocode 5
1800 Timber products and systems
1900 Close
This seminar will be delivered by expert speakers from the Institute for Sustainable Construction (ISC) at Edinburgh Napier University:
Dr Dan Ridley-Ellis manages a team of researchers working in the area of wood properties and their link with silviculture and construction products. His research interests include the mechanical and physical properties of timber, timber grading technology and standards, and the consequences of forest management and the natural environment on tree growth and wood properties. He serves on the board of the Wood Technology Society (IOM3), the UK timber grading committee, British Standards committee B/518, CEN TC124 Working Group 2 and TG1. He undertakes research, consultancy, knowledge transfer, CPD and public engagement.
Mr Andrew Livingstone is a research associate and doctoral candidate within the Centre for Offsite Construction + Innovative Structures (COCIS), part of the ISC, with over 20 years of industry experience. His area of research is 'BIM Enabled Mass Customised Structural Timber Engineering', with a focus on Multi-dimensional data fitting for the structural design of timber connections. Recent publications are included in the proceedings of the World Conference on Timber Engineering, Education and Research in Computer Aided Architectural Design in Europe Conference and American Society of Civil Engineers Structural Engineers Congress.
Dr Robert Hairstans undertakes research, innovation and commercial activities in order to deliver construction technologies for tomorrow communities. A Reader in Sustainable Construction and Senior Lecturer in Civil and Structural Engineering at Edinburgh Napier University Dr Hairstans is Head of the Centre for Offsite Construction + Innovative Structures (COCIS), part of the ISC. He has authored over 30 peer reviewed academic publications as well as the book "Offsite and modern methods of timber construction – a sustainable approach" and was Principal Investigator (PI) on the Engineering and Physical Science Research Council (EPSRC) funded project "Structural Optimisation of Timber Offsite Modern Methods of Construction".