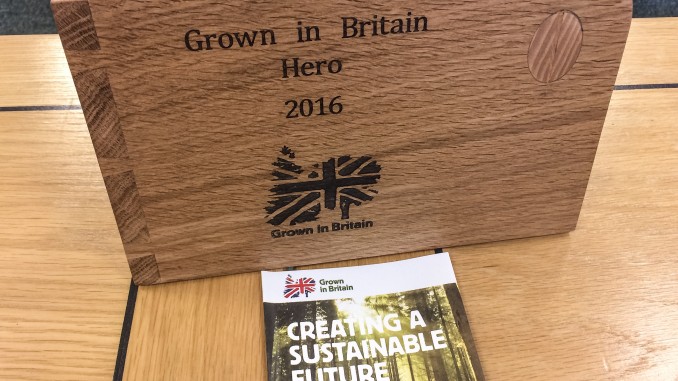 Dan Ridley-Ellis was delighted to receive the 2016 Grown in Britain "Woodland Hero" award on behalf of everyone in the Centre for Wood Science and Technology who has contributed to our work supporting UK forests and the better use of timber that they grow: Ivor Davies, Steven Adams, Stefan Lehneke and David Gil-Moreno.
"I am delighted to be accepting this award on behalf of the team in the Centre for Wood Science and Technology at Edinburgh Napier University. Like Grown in Britain, we have a tremendously positive vision for sustainable forestry in the UK and are excited about the opportunities for more home grown wood in construction and other products. It's great to be working in a multidisciplinary research area that connects companies and people with our natural environment. And while wood and trees are fascinating scientifically, our real motivation comes from knowing that we are doing something good to support growth of the forest and the economy." [Dan Ridley-Ellis, Edinburgh Napier University]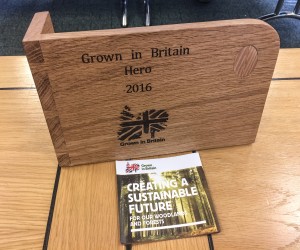 Grown in Britain has been formed for anyone who values British trees, woods and forests and the products made from them. It has established a new licensing scheme that allows timber to be marked to ensure that the forests and woods of which it came from have been managed in accordance to the government's UK forestry and public procurement standards.
The Centre for Wood Science and Technology is primarily interested in the physical and mechanical properties of wood and how these affect its performance in different applications. Through our research and technology development we support the forest and timber industries to get the most from the forest resource – avoiding wastage of energy and value from the nursery to the end user, and helping specifiers to achieve the technical performances they require. We also improve the resilience of forestry to commercial pressures, climate change, and pests and diseases. This helps ensure the future of economically, environmentally and socially sustainable forestry, providing incentive for afforestation and an ongoing supply of renewable material for construction and manufacturing.
Our core areas of work are the properties of timber grown in the British Isles and strategic, industry led, research into the factors that affect the quality of sawn timber for construction. As part of this we work on timber grading, resource assessment and segregation to the most appropriate markets. The work covers structural timber, where strength stiffness and density are principal concerns, and timber used for facades and other components where stability and durability are key. We also engage in other areas of work with international scope, from ubiquitous objects like wooden pallets and scaffold boards, to unique and valuable items such as historic buildings and musical instruments.
We are directly involved in standardisation work at the British and European levels. The majority of structural timber produced in the UK is graded with machine settings we established, and we have also led the development of British Standards for external timber cladding. Our work is closely linked to real world issues, and as well as partnering with industry for applied research, we engage in knowledge transfer and professional development. We also provide consultancy, commercial testing and expert witness services.
We work with the numerous growers and sawmills in the UK, and with research partners with complementary expertise covering scales from chemistry to forest planning. Our long standing partnership with Forest Research and Forestry Commission Scotland is particularly important, but over the years we have worked with many others from small social enterprises to large companies and industry bodies. We are extremely grateful for this support and our work would not be possible without it.
"Dan and his team have carried out vital research on the properties of timber grown in the British Isles and in particular the factors that affect the quality of sawn timber for construction. He is a world expert on timber grading, resource assessment and segregation of timber into the most appropriate markets and we are fortunate to have him on the Grown in Britain team, leading the charge for homegrown timber.  The Woodland Hero award is aimed at the people who make things happen whether in the public gaze or more hidden in the vital work behind the scenes. Dan's work on standards, grading and British Standards is largely unseen and we want to change that as he is a true Grown in Britain Woodland Hero."  [Dougal Driver, CEO of Grown in Britain]
While the trees are grown in Britain, our research has most definitely been international. Staff and students who make significant contributions to our work have come from many countries – including New Zealand, Germany, Spain, Ireland, Australia, Romania, China and France.
Edit 21/10/16.  We just received a letter from Miles Briggs MSP who tabled a motion congratulating us.  Big thanks to Miles and all the MSPs who signed it.
Read more: Edinburgh Napier University news article / Grown in Britain news article / Scottish Parliament motion S5M-01958