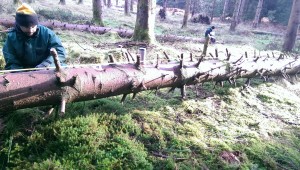 David is undertaking a 3-year doctoral training programme (PhD) through Edinburgh Napier University. David holds a M.Sc. in forestry engineering, with a specialisation in Forest Management, from the Technical University of Madrid. After completing an internship in the European Forest Institute and getting working experience with consultant companies, David joined Forest Research as a research trainee before going on to start his PhD in October 2013.
David is investigating the merchantability and wood properties of Noble fir (Abies procera), Norway spruce (Picea abies), western hemlock (Tsuga heterophylla) and western red cedar (Thuja plicata) growing in Great Britain. Pests and diseases as well as climate change have led in Great Britain to an interest in planting a wider range of softwood species as an insurance policy for a continual wood supply. However, there is a lack of evidence on the wood properties of the species shortlisted for planting.
Material from each of the four species was obtained at three different latitudes in Great Britain representing different growing regions. First results indicate that timber produced from Noble fir, Norway spruce, western red cedar and western hemlock grown in Great Britain is capable of meeting strength classes required for use in construction.