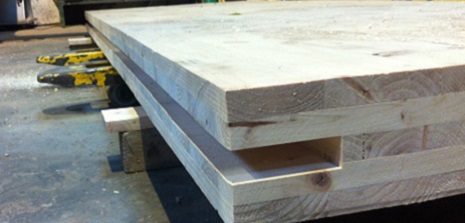 A Scottish construction firm is investing £4.2m in a 'massive' timber production plant following university research by The Institute for Sustainable Construction.
Lanarkshire-based firm CCG has bought a new 122,000 sq. ft. plant to make cross laminated timber (CLT). More commonly known as 'massive' timber, it is an exceptionally strong building material which can be used in commercial and residential structures.
The bold move came on the back of research led by Dr Robert Hairstains, who heads the Centre for Offsite Construction & Innovative Structures (COCIS).  The research pooled academic expertise from across the Institute of Sustainable Construction, including The Wood Studio, Centre for Wood Science & Technologies and the Building Performance Centre.
The next step will hopefully be the integration of home-grown timber into the facility, which our research has shown is technically feasible once supply chain issues are resolved.
There is more information on Edinburgh Napier University's news site.