Leadership to the fore with special Armed Forces Network event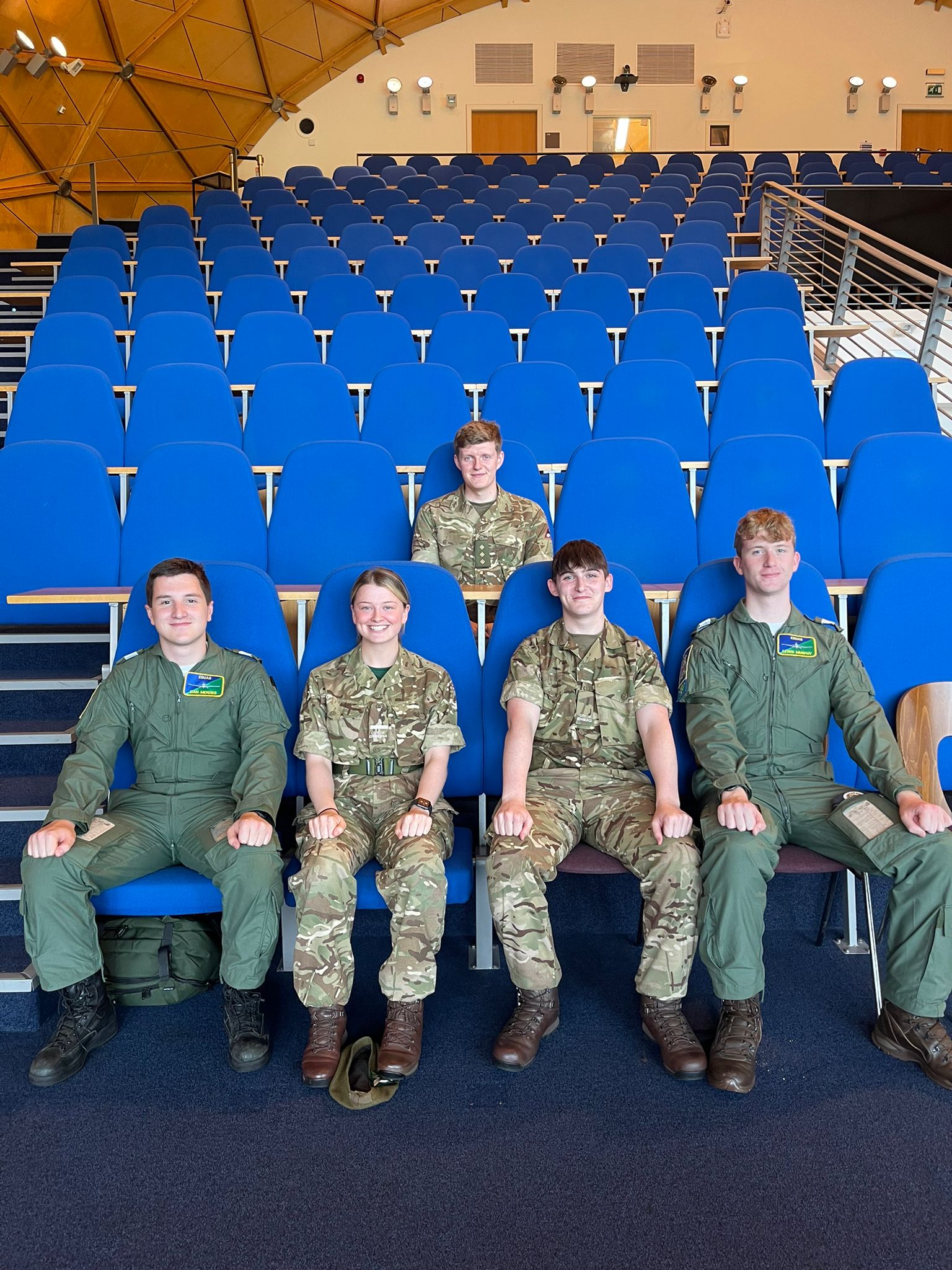 Leadership skills fell under the spotlight this week (23 August) at a special Armed Forces Network event at Edinburgh Napier's Craiglockhart campus.
Around sixty S6 pupils from Firhill High School and St Columba's RC High School attended the event, which saw the young people take part in a variety of activities that looked at the development of leadership skills and the qualities required to be a leader.
In the morning, Armed Forces Network co-lead and Edinburgh Napier first year student Captain Hugh MacKay hosted a panel discussion with fellow students Officer Cadet Kimberley Rae and Oran Anderson – both serving in the University Officer Training Corps – and Officer Cadets Lewis Murphy and Dan Menzies from the University Air Squadron (all pictured above). The panel shared their own experiences of armed forces training while they study.
After a series of breakout rooms to reflect on their own experiences of leadership, the school pupils were then invited to undertake a number of command tasks facilitated by a team of officers and soldiers from HQ 51 Infantry Brigade and Army HQ Scotland, under the direction of Lt. Colonel Hugo Clark, chief engagement, outreach and communications officer.
The various tasks all had a leadership and team working focus, with the young people undertaking several problem-solving activities – from building the tallest structure, to navigating a blindfolded teammate through a maze of cones.
The event was organised by Edinburgh Napier's Armed Forces Network with support from the University's Widening Participation team. The staff-student support network is co-led by Claire Biggar, Wellbeing and Inclusion team, Dr Gary Kerr of the Business School and Captain Hugh Mackay, first year student within the School of Computing, Engineering and the Built Environment.
The Business School's Dr Gary Kerr said:  "We loved welcoming S6 pupils on to campus today to learn about leadership in the classroom and then test their leadership skills out on the lawn doing the command tasks. It has been a pleasure working with the local schools and also our neighbours from HQ 51 Infantry Brigade who did such a fantastic job encouraging the young people to believe in their abilities, and complete the tasks using their leadership skills".
More information on Edinburgh Napier's Armed Forces Network can be found here.