What's an ENU Masters graduate from Peru doing in Egypt?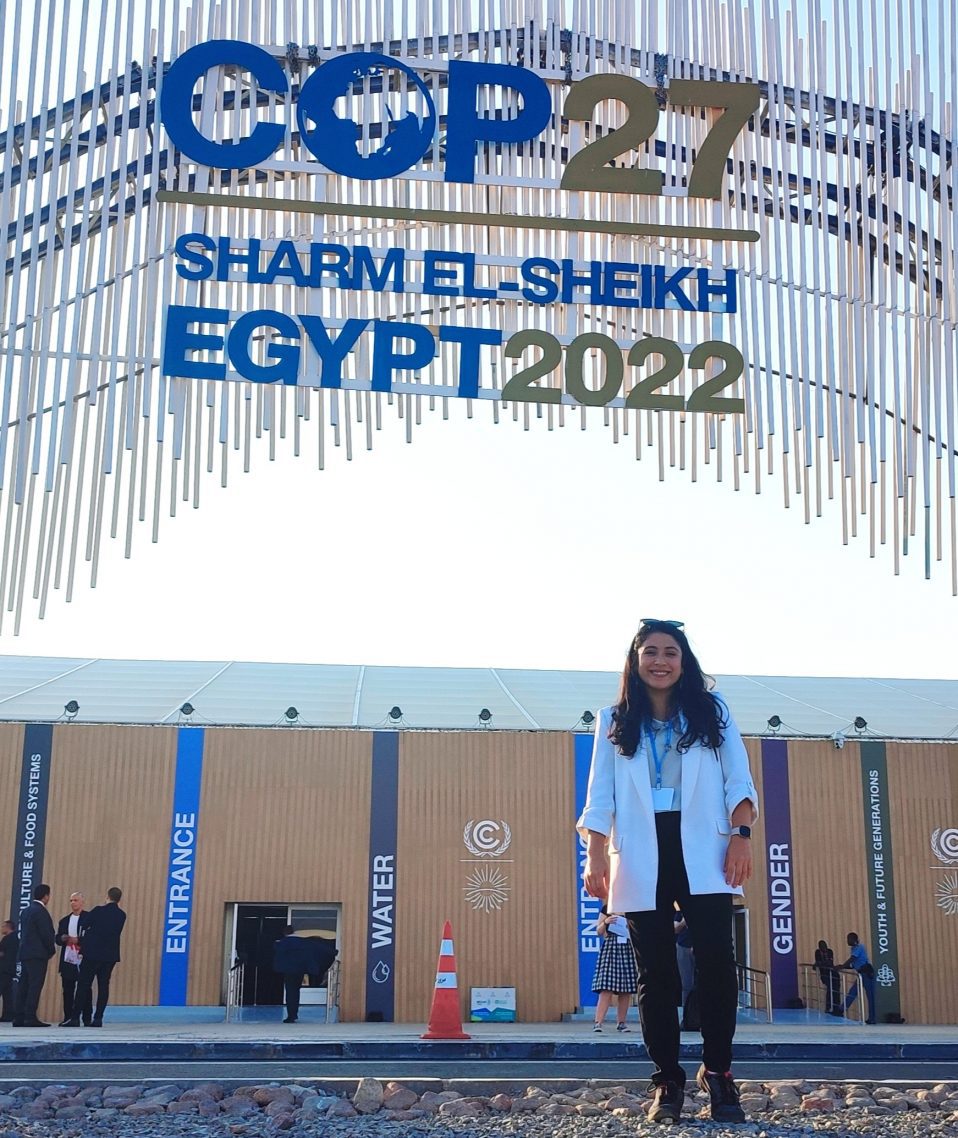 It won't have escaped anyone's notice that Egypt is playing host this week to COP27. As world leaders gather to discuss the pressing challenge of moving towards net-zero targets, the city of Sharm El-Sheikh is also host to thousands of diplomats, climate experts, and environmental activists who are debating the many factors that need action in order to drive forward our efforts to lower global carbon emissions.
Among those attending is Barbara Beltran Torres, a young social entrepreneur, PhD researcher, and graduate from Edinburgh Napier.
We asked Barbara to tell us more about her journey to this point in her career…
Everything started as a volunteer in social work and now I'm part of YOUNGO, the children and youth constituency of the United Nations for climate change, explains Barbara.
After studying in China to become a Chinese translator, then doing a bachelor's degree in International Tourism Management in Germany, I did a double master's degree at the University of Applied Sciences Landshut in Germany and at Edinburgh Napier University in Scotland. My research focused on implementing sustainable strategies to achieve excellence and net zero emissions by 2050. While studying, I became certified as a sustainable development speaker by the German government and visited more than 25 German schools and institutions to share my expertise and raise awareness on climate justice and sustainable development goals.
All these experiences inspired me to start my own NGO in Peru earlier this year: #GreenDreamseu is a platform that offers educational programs on sustainability topics for Latin American Youth. We work side by side with indigenous communities, and thus promote inclusiveness, cultural identity, and decent jobs. Moreover, last year I had the honour to become a One Young World ambassador. OYW is made up of more than 14,0000 ambassadors who come from all over the world: we are young leaders, but there are also political, business, and humanitarian figures involved, such as Justin Trudeau, Paul Polman and Meghan Markle, among many others.
This year I was chosen as the OYW representative for South America, where I work voluntarily as Coordinating Ambassador. This has given me an opportunity to work with amazing young leaders from eight countries, and to participate in OYW summits. This year I had the opportunity to be in Manchester and next year the summit will be in Belfast.
I have been invited to COP27 through #GreenDreamseu. As I'm now a PhD student, researching the mismanagement of lands in the Peruvian Amazon, I am working on sustainable strategies to make our local economy in Peru more sustainable and profitable, without risking the integrity of the environment and local communities.
For me, attending COP27 represents a huge opportunity to connect and talk with young leaders, create future partnerships, promote our projects, and discuss relevant topics to find solutions from different perspectives. COP is well known for its intense conversations among parties, and as an NGO and young leader from the Global South, it is the right place to start negotiations between all my relevant stakeholders.
But this is only a step in Barbara's plans…
Contributing to the development of a culture of mitigation and adaptation to climate change is a task that starts at school, explains Barbara.
For this reason, after COP27, my NGO is launching a free and accessible climate action program – "Generation of Changemakers" – with the mentorship and financial support of UNESCO.
It will promote Global Citizenship, and our participants will have the opportunity to work together on projects and implement their own ideas to benefit their community. The aim is to strengthen the skills of this young generation, as agents of action and change in relation to climate justice and sustainable development.
By implementing state-of-the-art digital solutions, such as virtual reality and AI, and creating an inclusive, creative and intercultural space, my vision is to transform #GreenDreamseu into an innovative, educational Centre for Sustainable Development that can offer free and accessible development for young people from both Latin America and Europe.
We wish Barbara every success with her vision for www.misionsostenible.org.
If you have been inspired by her vision, Barbara would love to hear from fellow social entrepreneurs and climate activists https://www.linkedin.com/in/barbarabeltran92/