The Arcade: Celebrating cyber and culture at the 20th Cheltenham Science Festival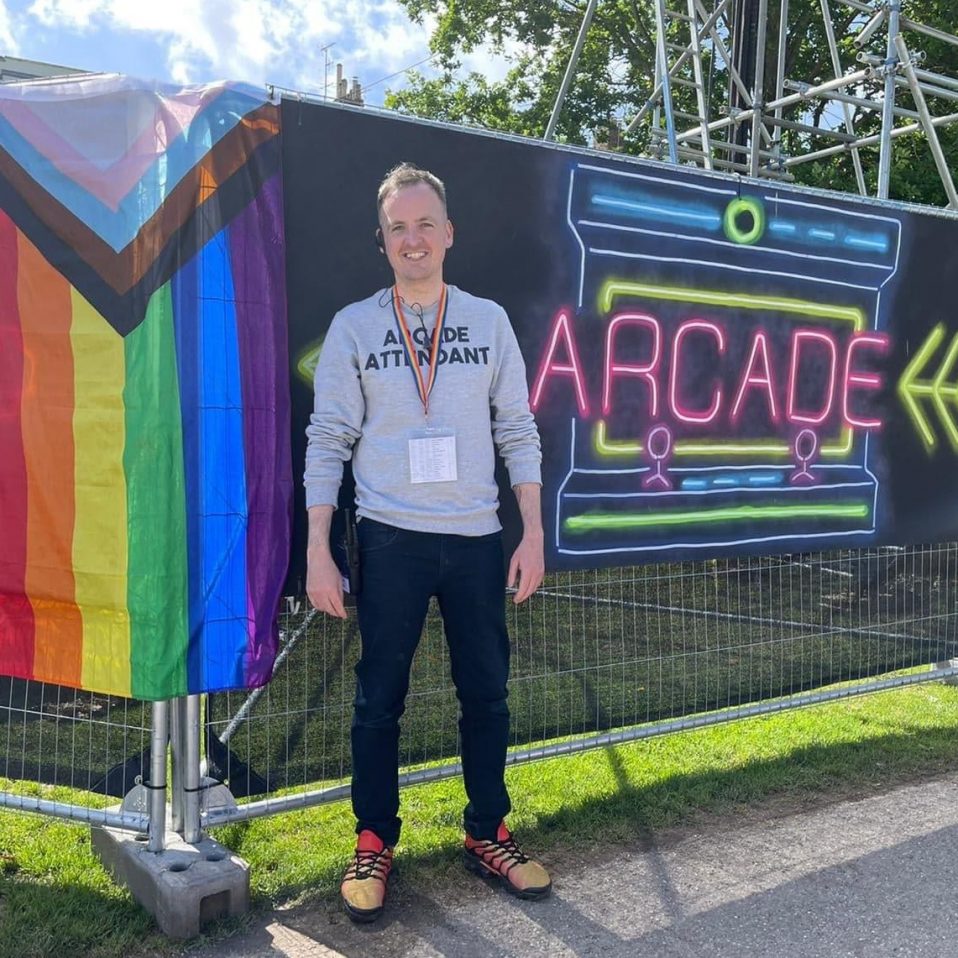 Cheltenham Science Festival celebrated its 20th birthday this year with eminent scientists like Lord Martin Rees, Astronomer Royal, rubbing shoulders with a diverse group of Young Changemakers to envision what a new world could look like at this year's festival.
Dr Gary Kerr, Associate Professor in Festival & Event Management at Edinburgh Napier University's Business School joined the festival as Curator, to create and event manage a brand-new drop-in zone – "The Arcade".
With cool graphics and retro arcade games, The Arcade drew in a phenomenal 24,000 visitors. Visitors were posed with a series of creative and cryptic challenges to show how new technologies will shape our culture in the future. The Arcade was a central theme that was used to centre the sweet-spot between cyber and culture.
The festival's Head of Programming Dr Marieke Navin said: "The Arcade has been a wonderful initiative that challenged people's perceptions of cyber. It was a space that made people feel welcome, included and valued, with diversity and inclusion centred at the heart of the zone. The Arcade really showed that cyber is part of our culture and it's a creative force where everyone from all backgrounds and life experiences are welcome and will be valued and included."
With retro arcade games, pinball machines and air hockey tables, the Arcade showed the past technologies that have shaped the modern arcade. Playing with retro games and technologies of the past provided an avenue for exploring new technologies and challenged the audience to think about how technological innovation will shape our culture in the future.
The Arcade showed the human side of the cyber world and central to the theme was empowering people to want to join the world of cyber and shape its future whilst feeling included and valued in the cyber space. Like seaside arcades, Cheltenham Science Festival's Arcade was a noisy, fun, colourful space where kids, teens and adults could try their hands at a series of creative and cryptic challenges. It was a place for making, breaking and creating, and simply having a fun day out like any other cultural activity.
The Arcade was dreamt up in consultation with around 30 industry partners – many of which are represented within the zone: Northrop Grumman, Sopra Steria, Lockheed Martin, L3 Harris, IBM, Security Queens, North Green Security, University of Lancaster, University of Gloucestershire and Pride in Gloucestershire.
Reid Derby, Director of Strategy at CyNam said "The Arcade was more than a zone at Cheltenham Science Festival, it was the beginning of a cyber and cultural movement. I hope people will be inspired by a vision of a world where everyone is welcome in cyber and everyone is made to feel valued and included, regardless of their background."
Dr Gary Kerr said "This has been a fantastic collaboration to work on and tremendously exciting to see it coming together. I've absolutely loved working with the industry partners to co-create this zone with them. It has been a brilliant creative challenge for me, and I've been able to further develop my curating skills and keep my practical event management skills current. I'm looking forward to bringing this as a case study into my classes here at Edinburgh Napier University."