May 27th, 2020: 
Congratulations to Dr Amanda Diserholt! Viva success during lockdown!
Amanda successfully defended her PhD: 'Fatigue and the Mind-Body Relation: A Lacanian Exploration'. Here she is in the tiny bottom right picture! Also pictured is her supervisor Dr Calum Neill, viva chair, Professor Mick Rae and Amanda's two external examiners Professor Lisa Barinther and Professor Paul Verhaege. Very well done!
March 21st, 2018: 
Two vivas within a week – a HUGE congratulations to the new Dr Lee Curley, who powered through his viva in a team record of just 1 hour!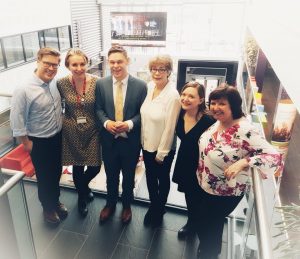 Lee is pictured above with Dr Rory MacLean (Director of Studies), Dr Kathy Charles (Head of Psychology), Dr Phyllis Laybourn (Supervisor), Dr Jennifer Murray (Supervisor), and Professor Mary Thomson (external examiner). Very well done Lee, we're all looking forward to graduation!
March 17th, 2018:
Lots and lots of congratulations to Dr Barbara Piotrowska, who passed her viva in March!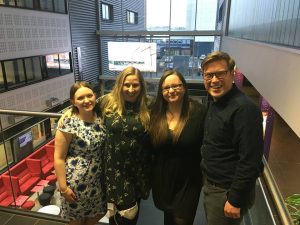 Barbara is pictured here with her wonderful supervisors, Dr Jennifer Murray, Dr Alex Willis, and Dr Rory MacLean. To top it all off, Barbara has now started in a new role of Lecturer in Psychology here at Edinburgh Napier! We are so pleased to have you as a member of our team, well done! Here is to the new adventure…
September 2017:
Well done and congratulations to Kirstie McClatchey!
Kirstie passed her PhD Viva in September…details and photo to follow!
June 2017:
Many congratulations to Dr Kai Li Chung who passed her PhD viva over the summer!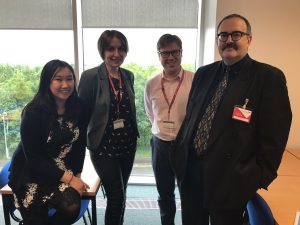 Here she is, photographed with supervisor Dr Kathy Charles, and examiners Dr Rory MacLean and Prof. Vince Egan. Not only that, Kai Li has bagged herself a fantastic lectureship with the University of Reading at their campus in Malaysia! Kai Li's research investigated the dark triad personality traits, and she has contributed to lots of teaching over the last few years.
Thank you for all of your hard work, we'll miss you!
March, 2016:
New lecturer Lindsey Carruthers passed her PhD viva last week!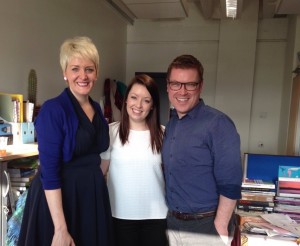 Lindsey successfully defended her thesis, "Creativity and Attention: A Multi-Method Investigation".
With Lindsey in this post-viva photo is supervisor Rory MacLean, and internal examiner Faye Skelton.