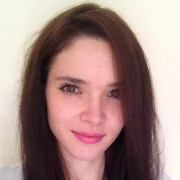 Kirstie passed her PhD viva in September, 2017, and graduated as Dr Kirstie McClatchey on June 28th, 2018!
In 2010 I graduated from Nottingham Trent University with a degree in Psychology. Subsequently, I worked as a Research Assistant contributing to research in Educational Psychology. In 2014 I graduated from the University of Stirling with an MSc in Health Psychology (BPS accredited Stage 1 qualification), and it was during this time I became interested in the role research has in healthcare settings.
My PhD project aims to investigate current suicide risk assessment practice in emergency settings across Scotland. Based on data collated of current practice, as well as prior research exploring risk and protective factors of suicide, a suicide risk assessment screening measure will be formulated from a decision science perspective. It is expected that this research will lead to a clinically useful and empirically-based suicide risk assessment screening measure that can be used in emergency settings.
Throughout my higher education and work, I have published research in the areas of alcohol consumption; educational interventions for vulnerable children; and the impact of inclusive education. I hope to continue to contribute to research in the future, and wish to complete the BPS Stage 2 Health Psychology qualification in conjunction with my PhD.
Read my latest blog post about my climb up Mount Kilimanjaro!