Have you ever felt like the odd one out in lectures? Want to meet others who share this experience? With women making up 26% of STEM (Science, Technology, Maths and Engineering) university graduates, it is quite likely you are not alone.
Napier STEM is a brand new society at Napier which aims to overcome this by supporting and encouraging women and other gender minorities in STEM throughout their university experience. Hopefully, by reading about our society and what we have been doing will encourage you to become a member and join in with our next event.
Follow this ENSA link to become a member.
Idea for the society
Our society was created, while a group of us were discussing opportunities to strengthen the community of women and other gender minorities in STEM at Napier with the amazing support of Equate Scotland and SCEBE (The school of computing, engineering and built engineering).
Societies for women in STEM are common at other universities, but Napier was lacking one. We decided this was a great opportunity to put one in place, and we have found it very important to remain inclusive for other gender minorities who may also feel isolated in STEM.
As a society, we aim to provide support when students may be struggling and encourage STEM students to continue their studies. There are often gaps with support due to the discomfort and isolation often felt by these students. We strive to build a network for gender minorities in STEM with other students, and also beyond university with opportunities to be introduced to people in industry too.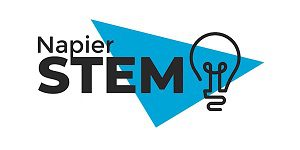 What we have done so far
Our society has been holding weekly study sessions throughout the year at Merchiston Campus, with information about them being shared on our Instagram and discord. This has been a great chance for people to come along, meet others in the society and get a change of scenery for their studies and uni work.
This past year, we've managed to put together many fun events. Our first being our winter crafts event. This was a small event trying to kick off the promotion of the society while giving people a break from studying. We provided crafts supplies and a selection of movies to gain the festive feel before the semester ended.
We managed to host a very successful pub quiz last semester. Held at Three Sisters, we provided lots of our freebies from Equate, along with gift voucher prizes and sweets to our winning teams. There was an amazing turnout with all our tables full and a great atmosphere amongst everyone attending.
In partnership with Equate Scotland and SCEBE, we hosted Launching into STEM, which was a panel event open to women and gender minorities. We invited along four inspiring women at different stages of their STEM career to speak about their journey and experiences, with the chance to ask question and network. This had a very successful turnout and a lot of positive feedback, both from guest speakers and attendees.
One of our most recent activities, was a little movie and pizza night. After a poll of different movies around women/gender minorities in STEM on our Instagram, we selected The Imitation Game. The event was relaxed and low-key on the run-up to the end of semester and is something we will definitely be hosting again.
Ideas for the future
Our main goal is to grow the society and encourage more women/gender minorities to join to help provide a better uni experience for them when they may feel overwhelmed or isolated. As the society is new, we have been growing steadily, but currently we are still small, though we have a lot to offer students at Napier.
Next year, we plan to continue our regular study sessions and socials throughout the year. Particularly, we plan to provide networking opportunities by getting together groups to attend conferences, along with providing fun activities to allow people to get to know each other and a ceilidh for people to attend. We also plan to organise a lead walk in Edinburgh and movie nights to provide more fun and relaxed events for people to come along too. Continuing our partnership with SCEBE we will aim to have reduced costs, making them more accessible to people who wish to attend.
Make sure to look out for our freshers event at the start of next year and come along and join the society to meet others.
Equate Scotland and SCEBE
Equate is an organisation which strives to support and training women in STEM throughout their careers and companies with developing and maintaining diversity in the workplace. In connection to Equate, we STEM student champions are ambassadors tasked with organising events to encourage community for women in STEM within our university.
Our connections with Equate and SCEBE have played a massive role in our success. They provide funding allowing us to keep our membership prices low and our events cheap, gaining more from our partnership. We often work in partnership with them for events, helping promote workshops Equate are running and studies happening within SCEBE at Edinburgh Napier University.
Feel free to dm or email us if you have any questions or want to learn more about us
ENSA: https://www.napierstudents.com/organisation/societies/8440/
Instagram: https://www.instagram.com/napierstem/
LinkedIn: https://www.linkedin.com/in/napier-stem-a46444254/
Discord: https://discord.gg/ZkZjxeAnVz
Email: napierstem@gmail.com