GA4 V's Universal Analytics
Overview
At the start of 2022, Google announced it was retiring Universal Analytics (UA) and would replace it with Google Analytics 4 (GA4) and that new user data would only flow in to GA4 properties from 1st July 2023.
This change is majorly influenced by modern browsing behaviour and recent privacy laws. As such, GA4 allows website users to be tracked across multiple devices without relying on cookies.
Google Analytics 4 (GA4) is the latest version of Google Analytics, which has been designed to provide more accurate and comprehensive insights into user behaviour. It is a powerful tool that can help businesses better understand their customers and make informed decisions about their marketing strategies.
Top New Features of GA4
More accurate user measurement

​

More privacy conscious

​

Enhanced measurement of events

​

Advanced Analytics Hub reporting

​

Deeper integration with Google Ads

AI & Machine Learning​
New GA4 Concepts
Cross Platform Data Unification
Normally, when a user visits a website they will be asked to give consent to various levels of cookies. Once the user accepts these, the website drops the cookies on to that device which integrate with Google Analytics and sends cookie information from your browser to Google Analytics. This allows us to record and monitor actions on our website.
As we know, users can access our website through various devices (e.g a desktop visit while on campus then a mobile visit on a journey home). This makes it more difficult to get a bigger picture of that single users interactions on our website across a number of devices (desktop and mobile for example).
GA4 offers a much more comprehensive approach to cross-device tracking compared to Universal Analytics. With its data streams methodology and event-based data collecting model, you can track the activity of multiple devices on a single GA4 property and report on these combined sessions. This helps full the gap of data that the lack of cookies can leave behind.
 No separate tracking set is required for a mobile app because Google Analytics 4 pulls data from both website and app properties. ​
GA4 offers 3 different methods to identify users: User ID, Google Signals and Device ID.​
Once a user is identified, GA4 creates a single user journey from all the data associated with the same user. ​
The three reporting identities offered in GA4 are: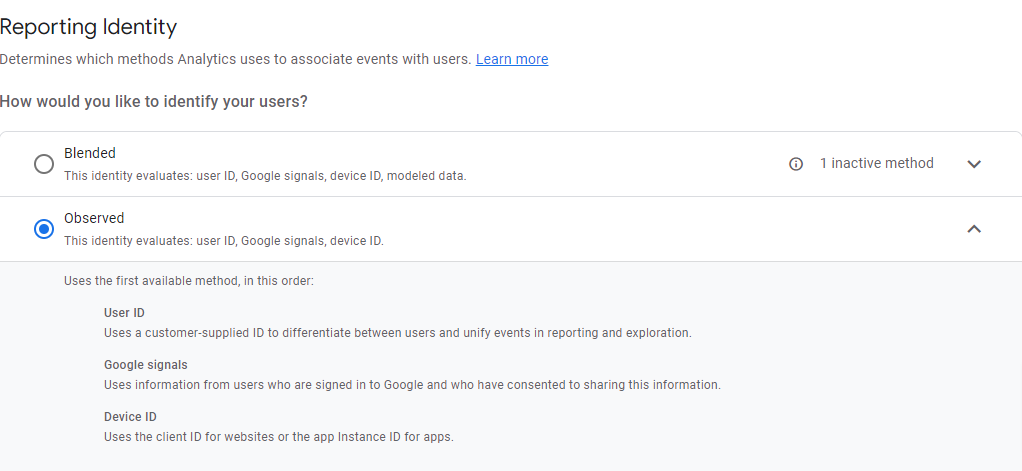 ​
Device ID: First, Analytics can identify users with their device ID. This is also known as client ID. This ID is set as a random integer stored by a first-party cookie, so it's set automatically. It's stored on the user's first visit and set to remain for two years. In the original version of Google Analytics, this was the only way visitors were identified.​
User ID: User ID was first introduced with Universal Analytics. This ID is set by you with a unique identifier. With user ID, after the user has logged into your site, your authentication system can assign them this ID. This should be consistent across your mobile apps and website for the same user.​
Google Signals: This is the newest option. It was previously available in Universal Analytics, and you can enable Google signals in GA4 too. Note that Google signals is only available for users who have turned on Ads Personalization. With this feature, Google develops a holistic view of how those users interact with your GA4 property from different browsers and devices.​
​
Account Structure
A typical UA account setup could look like this: one property would be applied per domain. Each property could have multiple views. You can think of each view as a different collection of data.
​In GA4, the account structure is different from Universal Analytics. While in UA you could create up to 25 views per property and 100 properties per account, GA4 gives you the option to create properties with Data Steams. A data stream is a source of data streaming into a property from an app or website (for example; one for website, one for iOS and one for Android).​
Data Model
The main difference between Google Analytics 4 and Universal Analytics is the way they collect data. GA4 uses an event-based approach while UA relies on a hit-based system.
Universal Analytics has numerous hit-types, including PageView, Social and Transaction. These are all referred to in GA4 as Events with various parameters, which lets you to take advantage of more flexible and comprehensive reporting capabilities.​
Event Measurement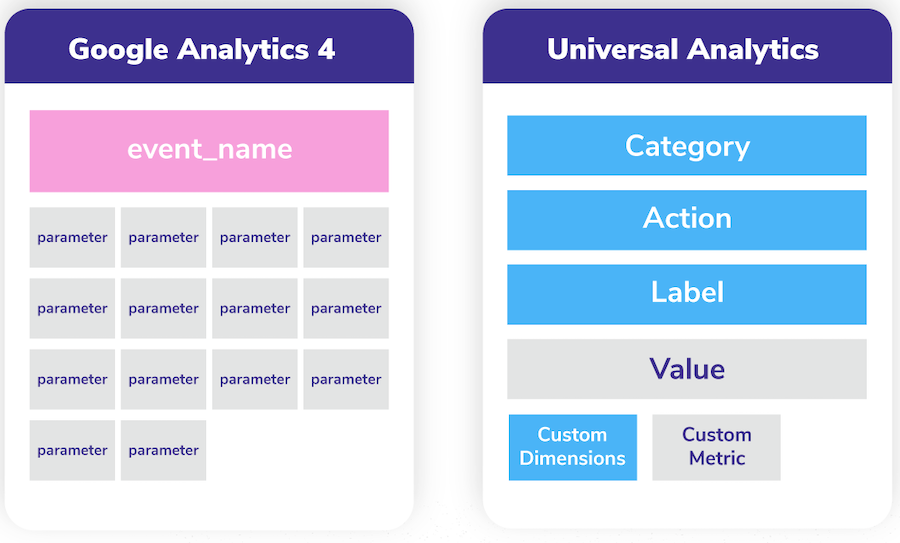 Universal Analytics was limited to CATEGORY / ACTION / LABEL format​
GA4 has more flexibility and allows up to 25 event parameters to be included to enhance our reporting.​
We can drill down in to user actions in more detail in our reports. ​
Think about other elements that may give valuable insight to your next campaign. ​
Goal's V's Conversions
When we talk about Goals (Universal Analytics) V's Conversions (GA4) we mean the tracking of user events on our website that are indicators of success.
Google Analytics 4 (GA4) replaces the concept of a 'Goal' with 'Conversion Events'. Goals do not fit well into the Google Analytics 4 data model because they are based on sessions, where GA4 is based on events. ​
​GA4 gives more flexibility for conversion tracking. On one hand, GA4 allows automatic tracking of some events but on another hand it gives multiple options to add event parameters and custom options which may be challenging for those who have little or no experience of this. ​
What Does GA4 Look Like?
Home Dashboard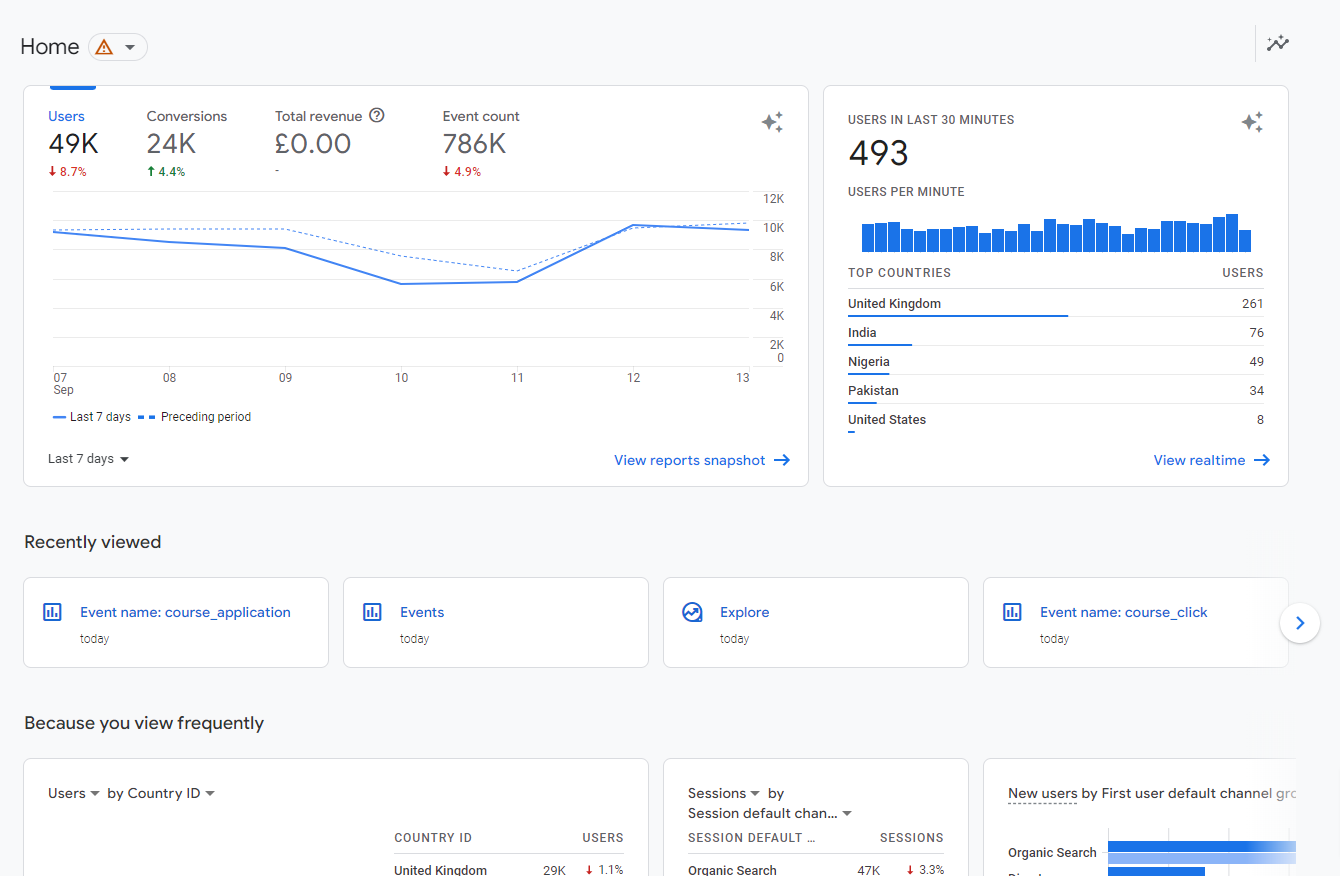 Reporting
Audience Overview Report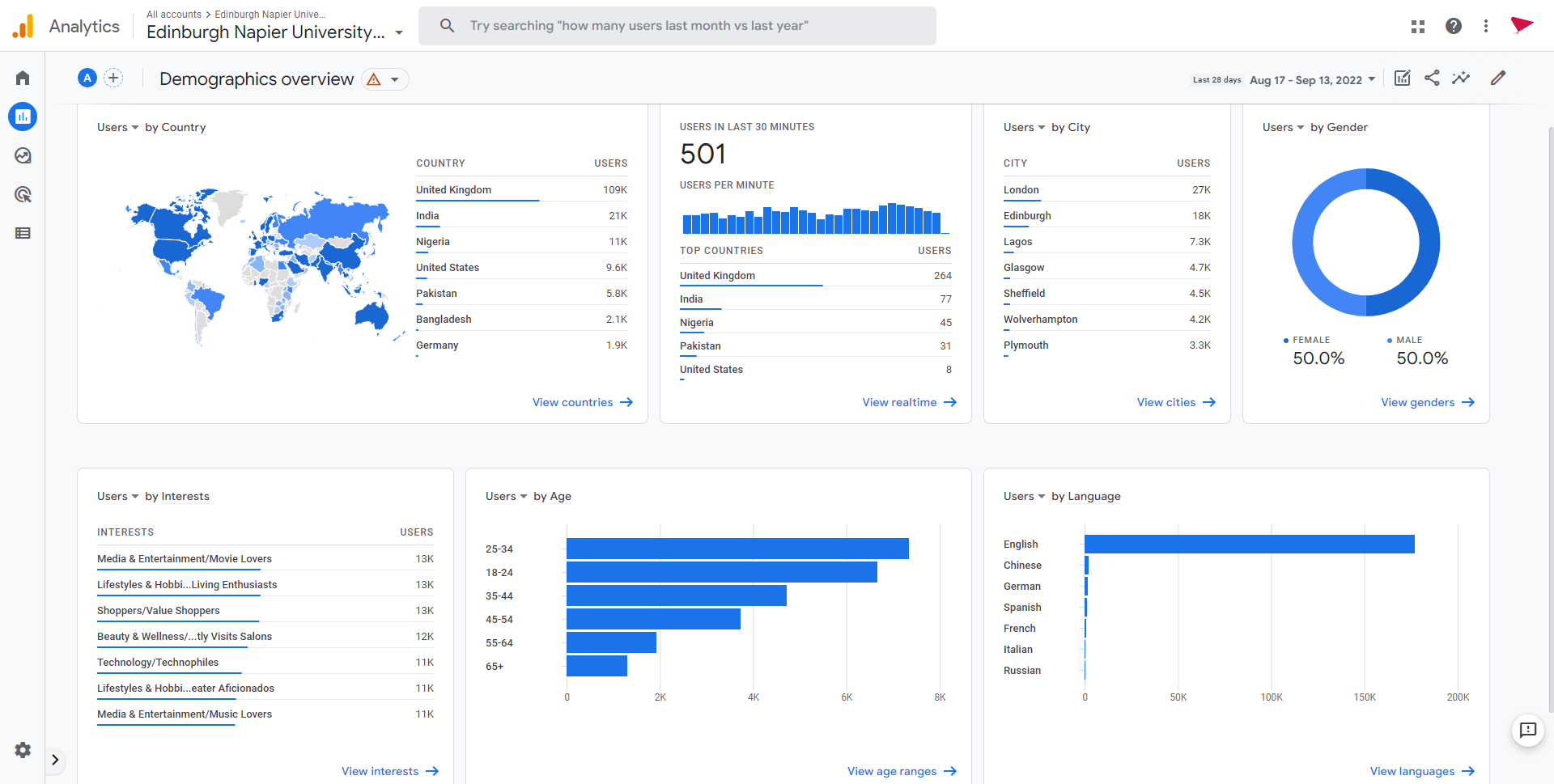 If you previously used the Audience Overview report in Universal Analytics, you can access similar data using the Demographics overview report in GA4. ​
Campaign Traffic Report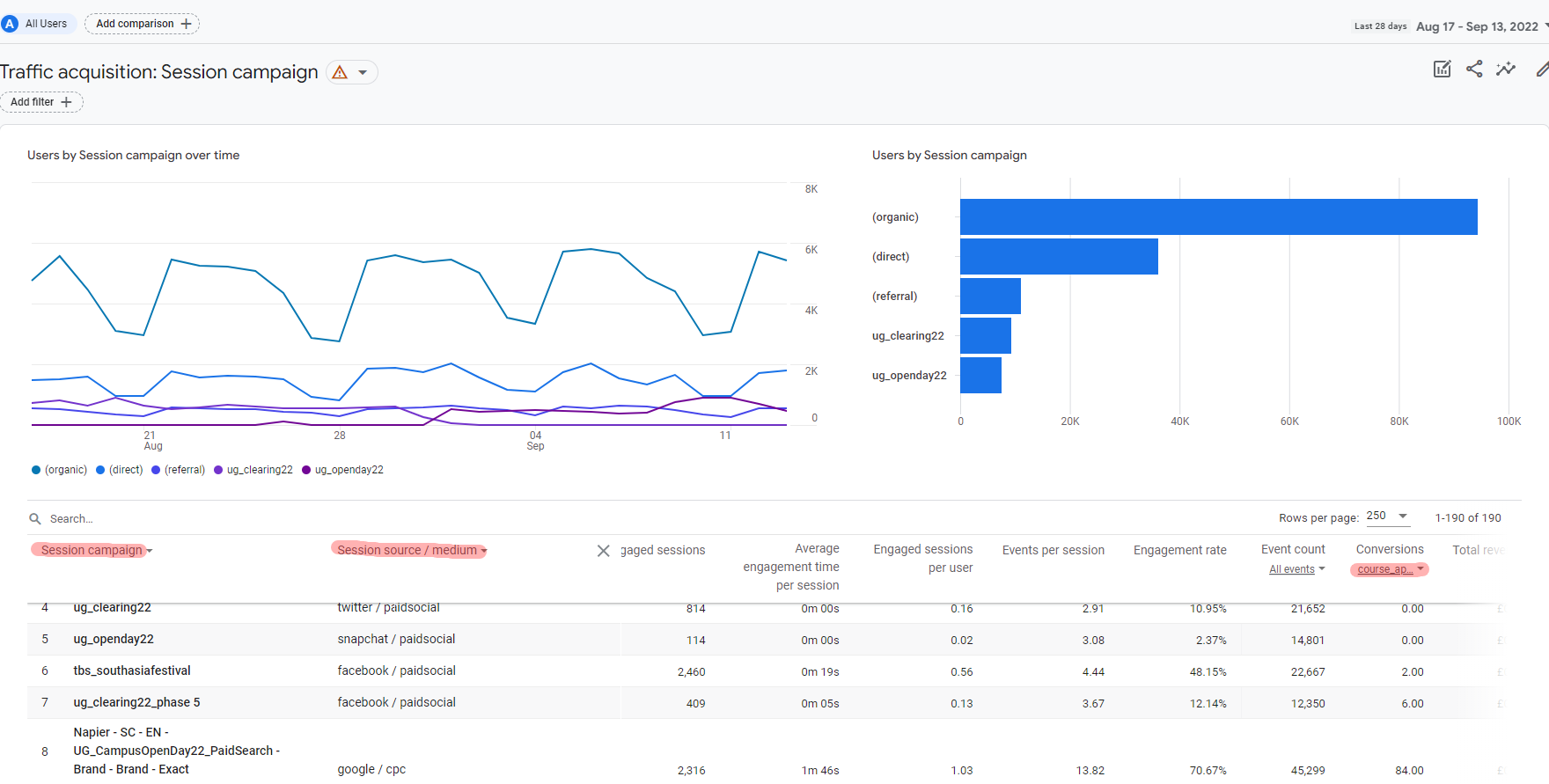 If you previously used the Campaign / Acquisition report in Universal Analytics, you can access similar data using the Traffic acquisition report in GA4 (and selecting the dimensions "Session Campaign" + "Session Source / Medium" as these are the closest related measurements in GA4. ​
Events Report
Conversions Report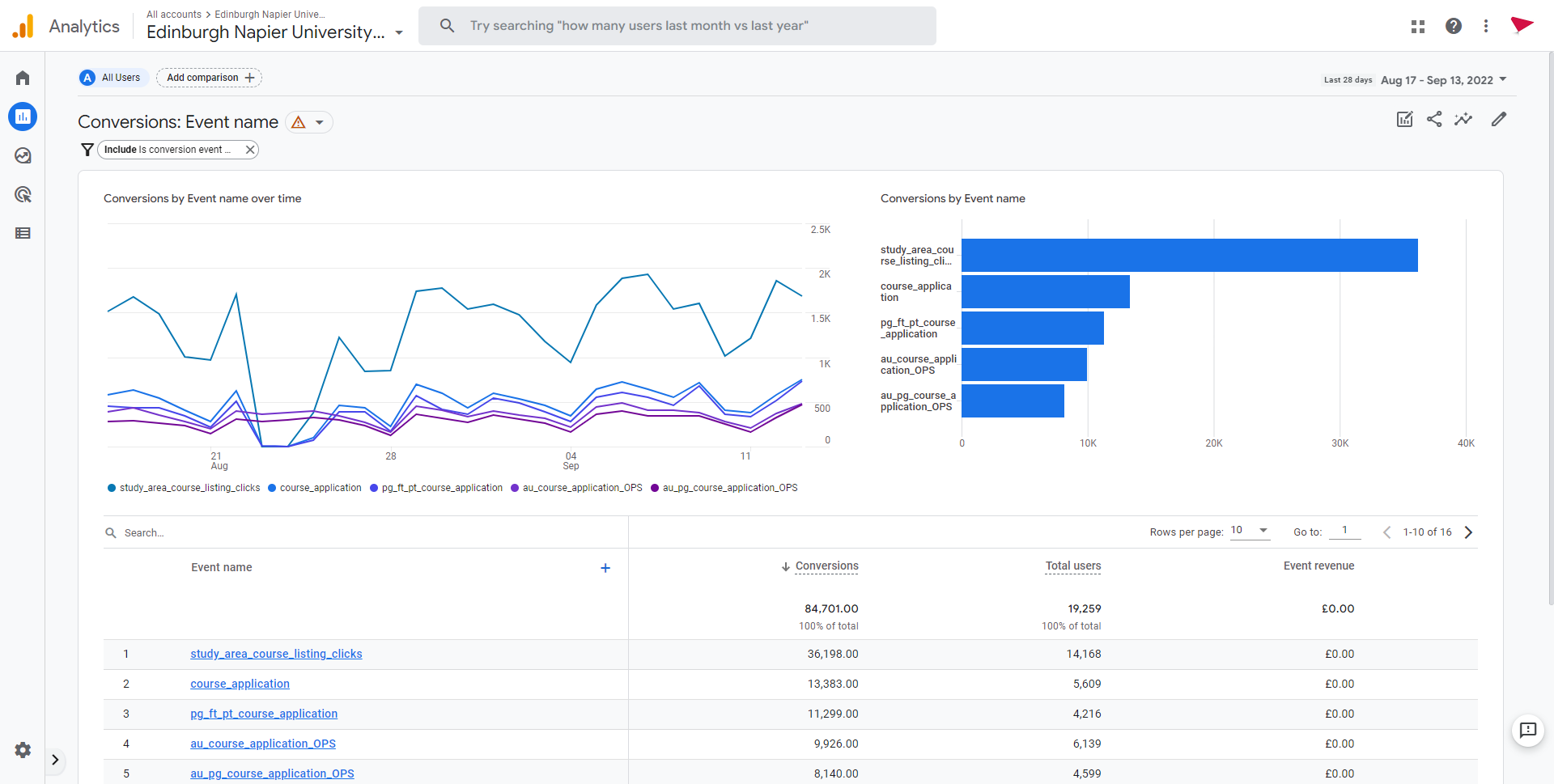 GA4 Integration with Google Ads
GA4 Machine Learning & AI