There's a new poster child for generative AI – ChatGPT – that is taking travel and the world by storm. With travel highly digitalised, where 66% of all bookings are conducted online in 2023, disruption from generative AI is already rife, writes Caroline Bremner, Senior Head of Travel Research, Euromonitor International.
Balancing privacy and personalisation
Consumers are comfortable with new technology such as voice assistance providing personalised product information. However, how much will they embrace AI that depends on sharing ever more private data to enable personalisation? According to Euromonitor's Voice of the Consumer: Digital Survey, there is resistance: 45.1% of consumers agreed that they are concerned about how much data companies hold on them in 2023, while 21.8% are not willing to share any personal information.
Generative AI goes mainstream
Released in November 2022 by OpenAI, the speed of adoption of ChatGPT4, a natural language model, has been record-breaking, reaching 100 million users within two months. This is leading to an accelerated phase of automation across operations, communications, marketing, promotion, sales, coding and sustainability.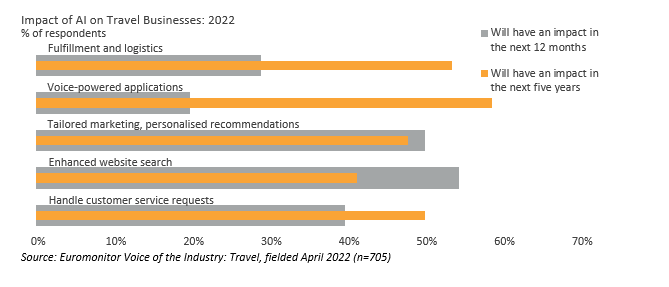 Leap forward in personalisation
Expedia announced in April 2023 its collaboration with OpenAI, offering in-app trip planning powered by ChatGPT, as well as offering a plug-in to ChatGPT Plus users. The Expedia ChatGPT experience provides personalised recommendations and facilitates bookings, delivering relevant results for hotels, flights and activities.
Other travel brands like Kayak, TripAdvisor, GetYourGuide and Klook followed suit. Hotels and airlines are turning to generative AI for customer service, whilst automating menial tasks. More integration is expected for ChatGPT into the search and booking process. Generative AI is only at the beginning of its journey.
AI creates controversy
 However, the path of adoption will not run smooth as there are concerns over consumer privacy with countries like Italy temporarily banning ChatGPT. There are also concerns about the models being reliant on out-of-date knowledge. However, access to real-time data has been enabled for ChatGPT thanks to a new plug-in with Microsoft Bing.
The risks of amplifying misinformation, bias and inequality are major threats. Tech leaders like Elon Musk recently demanded a pause on AI development to avoid risks to humanity, stating that time was needed to enable governments to play catch-up.
Quality control will be required to ensure that there are no disconnects between trips crafted by AI, but not fulfilled to the necessary standard, leading to consumer dissatisfaction and personal risk.
AI unleashes new era of work
There are alarm bells for what an era of mass automation will usher in for the future of work. Travel agents faced mass disruption due to the rise of online travel three decades ago that led to mass store closures and job losses. Now, more travel agents face more disruption as generative AI accelerates automation across every stage of the customer journey. With Microsoft planning to integrate generative AI into its Microsoft 365 Copilot software, it will become ever more prevalent in consumers' daily lives, work and travel.