The information event on the Enhancement Theme Student Transitions Navigating transitions: transition skills was hosted by the QAA Scotland in Glasgow on Thursday 5th May. The event opened with welcome talks reminding us of and highlighting the importance of the current Enhancement Theme to improve student retention, progression and completion. The rest of the event was dedicated to presenting the QAA research and innovations on Student Transitions.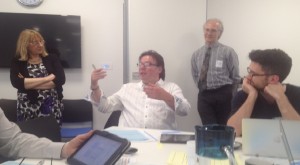 Event facilitators Elaine Smith and Barry Beggs, encouraging discussions and feedback
The QAA team on Student Transitions identified 8 key transition skills, further broken down as per their function to students – skills to study, or to navigate change:
Navigating change

self-efficacy
self-management of expectations
social skills for embracing diversity
dealing with stress

Skills for academic study

critical self-reflection
independent learning
critical thinking
academic and information literacy
To successfully support the development or deepening of these 8 transition skills among the student body, the QAA team presented leaflets which content is editable by lecturers. In addition, ready prepared PowerPoint presentations were designed for Higher Education staff to easily conduct transition skills workshops. The leaflets and PowerPoints aims to provide students with an extended induction, continuing in the first 4 to 6 weeks of teaching. The leaflets are available to read and download here.
The participants were invited to test and comment on the numerous activities included in the leaflets and PowerPoints to develop transition skills. Most activities are interactive and involve the use of mobile devices, such as creating learning journal entries, establishing goals, choosing and using affirmations for motivation.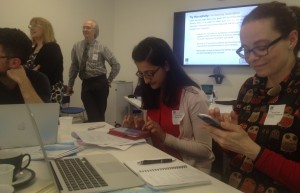 Participants testing the transition activities